City of Buffalo - Neighborhoods
---
---
General Information
Welcome to the city of Buffalo Neighborhoods Map. The "City of good neighbors" consists of thirty-two neighborhoods varying in size, function, and historic significance. These current neighborhoods are described by location within the city, community associations, and cultural and ethnic history. Additional features of this page include links to related sites and a selected bibliography of source materials used in compiling the Neighborhoods Map website. For additional reference in finding streets, see the Buffalo Street Map.
---
---
---
List of Buffalo Neighborhoods
---
This page is updated regularly and will include neighborhood boundaries, more photos, more links, and additional data.
If you live in a neighborhood and have photos or other materials that you can share, we would be willing to consider them for addition to this site (credit for photos will be given). Contact the Map Librarian.
---
Map KEY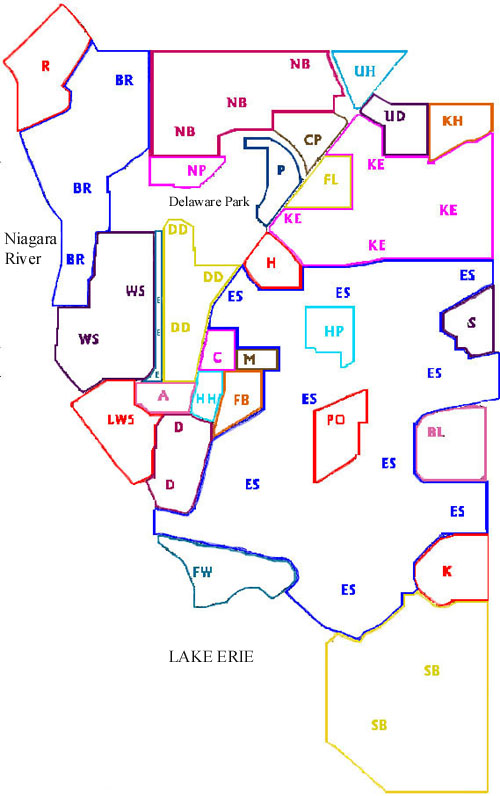 Bibliography
The following sources were consulted in creating this website:
American Atlas Company. Atlas of the City of Buffalo, New York. (NY: American Atlas Company, 1894 [i.e. 1895])
Beveridge, Charles E. The Master List of Design Projects of the Olmsted
Firm, 1857-1950. (Washington, DC: National Association for Olmsted Parks in conjunction with the Massachusetts Association for Olmsted Parks, c.1987)
Buffalo Architecture: a guide. (Cambridge, MA: MIT Press, c.1981)
Cram, George F. Company. A descriptive review of the commercial,
industrial, agricultural, historical development of the state of
New York, with special charts, detail maps and profuse half tone
illustrations from all parts of the Empire state. (Chicago, NY: G.F. Cram, [c.1914])
Geological Survey (US). Buffalo quadrangle, New York. (Map). (Washington, DC: The Survey, 1948).
Geological Survey (US). New York. Erie County. Buffalo Quadrangle. (Map). (Washington, DC: The Survey, 1901).
Goldman, Mark. City on the Lake: the challenge of change in Buffalo,
New York. (Buffalo, NY: Prometheus Books, 1990).
Goldman, Mark. High Hopes: the rise and decline of Buffalo, New York. (Albany, NY: State University of New York Press, c.1983)
Kowsky, Francis R., editor. The Best Planned City: the Olmsted legacy
in Buffalo. (Buffalo, NY: Buffalo State College Foundation, 1991)
The National Register of Historic Places. (Washington, DC: National Parks Service, 1969- )
Simon, Jacqueline C. "Changes in the residential neighborhood Parkside,
Buffalo, NY, 1925-1950." (Master's Thesis, SUNY University at Buffalo, 1989)
In addition, materials produced in English 201 (M.E. Schindler) are being incorporated into neighborhood pages from course projects (2010- ). Students are credited on pages relating to their project contributions.
---
Related Sites
Buffalo, New York Metropolitan Area
---
Buffalo Parks, Olmsted Works and Activities
---
Other Great Buffalo Neighborhood-Related Sites
---
Buffalo and Western New York Region
---
Boston, Massachusetts
---
Albany, New York
---
Manhattan, New York