Black Rock
---
Location
This Buffalo neighborhood centers on Hertel Avenue and Niagara Street along the Black Rock Canal.
---
High Schools
McKinley Vocational High School, 1500 Elmwood Avenue
---
Neighborhood Association
Delaware and North District--BlackRock Riverside NHS 716-877-3910; 203 Military Road.
Black Rock takes its name from a black limestone formation on the Niagara River near School Street. The rock was removed in 1825 during the digging of the Erie Canal. The Black Rock Canal Lock (1909-1914) diverts water traffic away from the powerful currents of the Niagara River, providing safe access to the Erie Canal and Lake Erie.
The neighborhood began as an independent municipality along the eastern bank of the Niagara River. It was incorporated into the city of Buffalo in 1853. The nineteenth century saw a great development of commercial and residential properties due to both the Erie Canal lock and the railroad system which criss-crossed the community. Prominent architectural monuments in the area include the Romanesque - style church of St. Francis Xavier (now the Buffalo Religious Arts Museum) and the Classical Revival-style Unity Temple on Niagara Street.
See: photos and article on the church.
---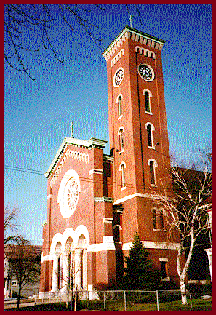 St. Francis Xavier R.C. Church (1911-1913) - 157 East Streetm - Max G. Beierl, architect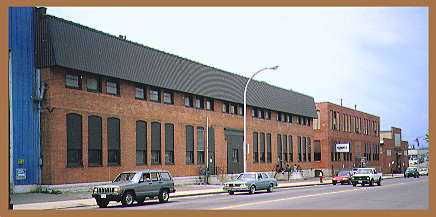 Hertel Avenue east of Elmwood Avenue.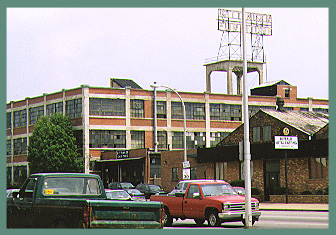 Former Kittinger Furniture building.