Downtown
---
Location
Downtown Buffalo centers on Main Street from Goodell Street to the Buffalo River. Within this two mile area are three separate centers: the Theater District in the north, the civic and commercial center around Niagara and Lafayette Squares, and the Waterfront area at the south end.
---
High Schools
Buffalo Alternative High School - 256 South Elmwood Avenue
Charles Grandison Finney High School - 512 Pearl Street
---
Neighborhood Association
Buffalo Chamber of Commerce,
107 Delaware Avenue.
---
Buffalo's Downtown has distinguished itself with buildings of great architectural beauty, diversity and prominence. Notable among them are City Hall, the Prudential (formerly Guaranty) Building, St. Paul's Episcopal Cathedral, Ellicott Square Building, Old County Courthouse, Shea's Buffalo Center for the Performing Arts and in more recent years the Marine Midland Center and Arena. The addition of the Metro Rail and renovation of many of these landmark buildings is revitalizing the area as a center of commerce, recreation and historical interest.
Once a bustling commercial harbor, the picturesque waterfront area has enjoyed recent redevelopment, bringing many people to its marinas and parks. The Buffalo & Erie County Naval Servicemen's Park offers tours of retired naval ships.
---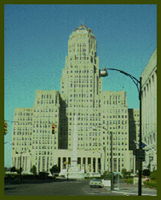 Buffalo City Hall (1929-1931) - 65 Niagara Square - Dietel, Wade & Jones, architects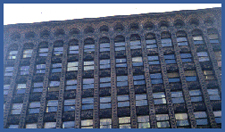 Prudential Building (1895-1896) - 28 Church Street - Louis Sullivan & Dankmar Adler, architects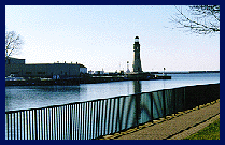 Buffalo Lighthouse (1833) - Fuhrmann Blvd. - U.S. Coast Guard Base
---
(photo credits: UB Dept. of Art History Visual Resources)