Elmwood Strip
---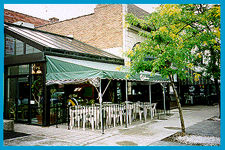 Coles Restaurant - 1104 Elmwood Avenue
Location
This Buffalo neighborhood centers on Elmwood Avenue from Forest Avenue south to North Street.
The Elmwood Strip is located in the western half of Buffalo in between the West Side and the Delaware District, with Allentown to the south and Delaware Park to the north.
"The Strip" stretches on Elmwood Avenue between Forest Avenue in the north and Virginia Street in the south.
While the whole of Elmwood Avenue is 7 miles long, what is called The Elmwood Strip is about 2.1 miles in length.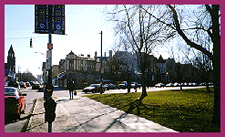 Elmwood Avenue at Bidwell Parkway
The Elmwood "strip" commercial district includes a variety of cafes, ethnic restuarants, nightclubs and specialty shops catering to neighborhood residents and the students of nearby Buffalo State College.
The blocks running off of Elmwood Avenue are lined with fine examples of residential Victorian architecture. Leaded glass windows and wooden "tracery" embellish these older single and multiple family houses.
Running through parts of the Delaware District, Elmwood Strip, and West Side are the Soldiers Circle, Bidwell Parkway and Chapin Parkway. These Olmsted-designed parkways cross over many parts of Buffalo.
Elmwood Village Association, 1068 Elmwood Avenue
---
Transportation
Bus Route #20 covers transportation to and from Elmwood Avenue. Bus Routes (NFTA Metro)
---
Libraries
James L. Crane Library, 633 Elmwood Avenue
---
Churches
Unitarian Universalist Church of Buffalo, 695 Elmwood Avenue
---
Local History
In 1850, what was then known as Johnson Park developed as an elite residential area in the southern part of Elmwood Avenue and was considered the most exclusive part of the city.
The rest of Elmwood, just north of Johnson Park was secluded from the city.
This part was called Shingletown and was not yet urbanized.
From 1880-1900, the overall population of Buffalo began to increase and the whole of Elmwood became more residential.
In 1900, the Elmwood Avenue and Johnson Park area was home to Buffalo's first mayor, Ebenezer Johnson. It was an upper class community, located just outside of the center of downtown Buffalo.
The Buffalo Female Academy was the most selective school in Buffalo.
Johnson Park, running on an east-west axis, blocked movement of downtown Buffalo and the central business district.
The Common Council decided to split the park in half and Elmwood Avenue was extended into the heart of the city.
---
Businesses (selection)
The businesses of Elmwood Avenue are as diverse as the populace. Every few feet, you're sure to find a restaurant, bar, or specialty shop. Such a high concentration of unique bustling businesses is unlikely to be found in any other area of Buffalo. Several are:
Plum Pudding, 779 Elmwood Ave.
ShoeFly, 801 Elmwood Ave.
Everything Elmwood, 740 Elmwood Ave.
Spot Coffee, 765 Elmwood Ave.
Louie's Hot Dogs, 470 Elmwood Ave.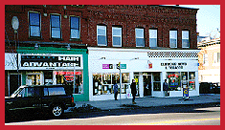 Elmwood Avenue shops
---
Nightlife
The Elmwood Strip is one of Buffalo's premiere locations for nightlife. The area is teeming with various bars and clubs of every type to fit any personality, mood, and desire. These include:
Cole's: voted best burger and beer selection in Buffalo
Thirsty Buffalo
Nektar: voted best martini bar in Buffalo
Nietzsche's
Left Bank: voted #1 most romantic restaurant in Buffalo
---
Entertainment and Leisure
Stuff for Families
Although not typically thought of as a family area the Elmwood Strip is becoming increasingly family friendly. There are plenty of stores, galleries, and events throughout the year to occupy the entire family. These include:
Free summer concert series on Tuesdays in July and August
Holiday Tree Lighting Ceremony: Celebrating the commencement of the holiday season, complete with caroling, hot chocolate, and cookies.
Albright-Knox Art Gallery: World renowned art gallery that includes large collection of modern artwork.
"A Musical Feast"- A music festival on Sunday, November 14th with many musicians including classical and contemporary artists.
Harvest Festival and Safe Trick or Treat: includes a petting zoo, hayrides, and pumpkin picking, a safe environment for trick or treating, and great bargains for the parents
Carriage Rides: ride around Elmwood Strip with the family in a horse drawn carriage during the holidays, $25 per ride.
Stuff for Kids
The Elmwood Strip has plenty of stores and events to occupy children while their parents people watch and shop Elmwood's many boutique stores. Such as:
Rumplestiltskins: Very unique clothing and costume store directed specifically at children's apparel
Can Can Candy and Gifts
Santa Saturdays: Santa will be on Elmwood Avenue for Christmas wishes and pictures for the kids
Adventure Cards and Comics
Fowler's Chocolates
Dolci: An authentic Italian desert and candy shop
---
Photographs with "2" in lower right by Jeff Malone, Leah Swartz, Michael Longley, who also supplied portions of the text.