First Ward
---
Location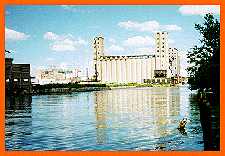 Buffalo River Grain Elevator
This Buffalo neighborhood centers on South Park Avenue. The I-90 Thruway runs along the northern side, and the Buffalo River forms the southern boundary of this industrial district.
The First Ward is bordered by Downtown and the East Side. Many streets take their names from states, such as Tennessee St., Kentucky St., Mississippi St., and Illinois St.
---
Boundaries
Perry St. (N); Smith St. (E);Buffalo River (S); Illinois St (W).
---
Neighborhood Association
Valley Community Association, 93 Leddy Street
---
Community Center
Old First Ward Community Center
62 Republic Street
Read more about the neighborhood: Old First Ward Community
---
Medical Care
Until the 1960s, Buffalo was first in the world for grain refining. Now aging elevators await their fate.
The Old First Ward was settled in the nineteenth century by Irish immigrants who worked in the local coal and lumber yards, and most notably the grain elevators along the Buffalo River. Small houses line streets with such names as Alabama, Louisiana, and Ohio.
The Irish-American population went to St. Bridget's Roman Catholic Church and school on the corner of Fulton and Louisiana Streets. After St. Bridget's was demolished, the neighborhood's spiritual center became Our Lady of Perpetual Help on O'Connell Avenue.
Today the neighborhood is in transition as its ethnic population diversifies.
---
Religious Institutions
Saint Stephens Roman Catholic Church
Saint Claire Roman Catholic Church
Saint Valentines School
Saint Francis School
Catholic Charities of Buffalo
Our Lady of Perpetual Help Church
---
Night Life
Adolph Bar
The Swannie
Cooks Bar
Mc Carthy's Restaurant
Morrisey Irish Pub
Malamute Tavern
---
Photographs with "4" in lower right by David Freundschuh and Olivia Christman, who also supplied portions of the text.
If you have more to share on this neighborhood, please contact us.