Kensington
---
Location
This Buffalo neighborhood centers on Kensington Avenue from Main Street to the city line at Cheektowaga. Bailey Avenue is an important north-south street in the neigborhood. The "33" (Kensington) Expressway cuts this large district in half.
---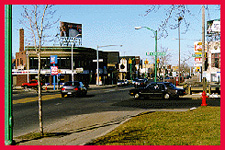 Intersection of Kensington - Bailey Avenues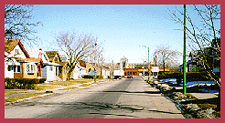 Kensington residential area
---
High Schools
---
Neighborhood Association
Ken/Bailey N.H.S., 1048 Kensington Avenue.
---
Hospitals
Two major hospitals, the Erie County Medical Center and Sisters Hospital (below right), are located within this area.