Lower West Side
---
Location
This Buffalo neighborhood centers on Niagara Street from City Hall to Porter Avenue.
---
High School
Leonardo Da Vinci High School
320 Porter Avenue
---
City of Buffalo Official Website
Read about City Hall
---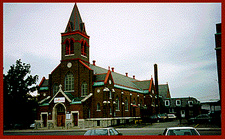 Holy Cross Catholic Church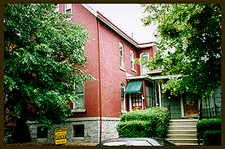 Home on Fargo Avenue
---
Beginning in 1890, Italian-American immigrants settled this area close to the lake, giving the Lower West Side an Italian cultural identification. This can be seen by the two churches of Holy Cross and St. Anthony of Padua. Mass is still celebrated in Italian at St. Anthony's, but the neighborhood has changed and mass is celebrated in Spanish at Holy Cross. The Lower West Side is currently identified with the Buffalo Hispanic Community.