North Buffalo
---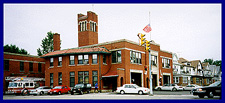 Fire Station on Colvin Avenue
Location
This Buffalo neighborhood centers on Hertel Avenue from Main Street west to Elmwood Avenue. The city line runs along its border with the village of Kenmore.
North Buffalo's south borders along Delaware Park and the Buffalo Zoo.
---
High Schools
---
Neighborhood Association
North Buffalo C.D.C., 203 Sanders Street.
This neighborhood was traditionally populated with Italian Americans.
—Throughout the 50's and 70's, historically known for Jewish community.
North Park is a section of North Buffalo that has many affluent homes and archtectural properties, and is distinct from the rest of the area around it.
The neighborhood is a stable residential community typified by older duplex homes. Hertel Avenue has always supported a healthy commerical district and today is lined with antique shops, restaurants and Buffalo's most noted movie theater for independent films, the North Park Theatre.
View a
statistical profile
of North Buffalo.
---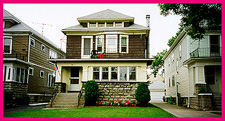 Homes on Norwalk Street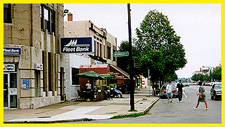 Hertel Avenue commercial district
The Italian Village Festival was moved to North Buffalo due to the large population there. The festival is considered as one of the five largest street festivals in the United States.
---
Churches
Carmelite Monastery (75 Carmel Road)
St. George Orthodox Church (2 Nottingham Terrace)
St. Margaret's Roman Catholic (1395 Hertel Ave)
---
—
Libraries
North Park Library —975 Hertel Avenue
---
Dining, Local Entertainment & Nightlife
North Buffalo has a wide variety of excellent restaurants and small markets offering a diverse selection of foods.Also, a number of bars and night clubs on Hertel Avenue provide many evening entertainment spots. One of these is: the Sterling Pub (147 Hertel Ave).
For movies, the North Park Theatre —(1428 Hertel Ave) is known for its old theatre styling, and is Buffalo's most noted theater for independent films. Read also the theatre's history
North Buffalo is served by the NFTA bus system and has special transportation services as well: Rural/Metro Medical Services
---
Portions of the text supplied Nikki Pascal and Justin Watt.