Polonia
---
Location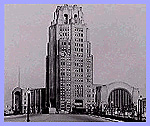 Central Terminal circa 1929
This Buffalo neighborhood centers on Broadway, which runs through this historic Polish-American area. Fillmore Avenue runs along the western edge, and is part of the larger East Side of Buffalo. Active since 1873, St. Stanislaus is the oldest Polish-American Roman Catholic Church in Western New York. An area landmark, it is the center for ecclesiastical and secular commemorative ceremonies.
For more information on Polonia visit the Forgotten Buffalo website.
For example, before his papal investiture, Pope John Paul II celebrated mass here. The oldest Polish library in the U.S., the "Polska Czytelnia" (established in 1889) is located in the parish Pitass Center.
A few blocks south of the Market is the New York Central Terminal. A monumental railroad terminal built in 1929, it was heavily utilized for troop transport during World War II but has since fallen into disrepair. A volunteer citizens group has lately undertaken a renovation project in hopes of spurring commercial interest in its redevelopment.
The Adam Mickiewicz Library and Dramatic Circle at 612 Fillmore Avenue was established in 1895 as a literary and theatrical organization in Buffalo's Polish East-Side. Closed for 17 years, this treasure reopened on September 17, 2011. Additional information and photos are available from the Forgotten Buffalo page.
---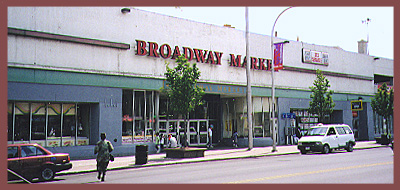 Broadway Market
On Broadway and Lombard is the Broadway Market, well-known throughout the year for its fresh food vendors. It is a particularly popular Buffalo shopping center at Easter-time when its stalls are over-flowing with seasonal foods, gifts, and flowers.
---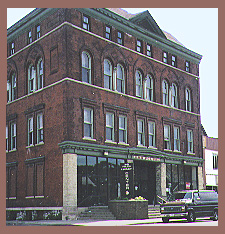 Polish Community Center of Buffalo Inc. - 1081 Broadway
---
See more photos and information on Polonia, as well as other East Side neighborhoods.
This historic neighborhood had many Buffalo landmark businesses, such as Sattler's on 998 Broadway.