Riverside
---
Location
This Buffalo neighborhood centers on the intersection of Tonawanda and Ontario Streets. Vulcan Street runs along the northern edge of this area of Northwest Buffalo.
---
High School
Riverside Institute of Technology (PS 205)
51 Ontario Street
---
Neighborhood Association
Blackrock/Riverside N.H.S., 203 Military Road
Black Rock/Riverside History
---
Riverside developed as the northern "suburb" of Black Rock early in the 20th century due to the expansion of the trolley system. The area was greatly enhanced by Riverside Park (designed by F.L. Olmsted's landscape architecture firm in 1898) which overlooked the Niagara River. Today the park is used by community residents for sports and neighborhood festivals, notably the Fourth of July carnival and fireworks celebration. St. John the Baptist Roman Catholic Church continues to be the most prominent church in the area and both Tonawanda and Ontario Streets provide retail outlets for the community residents.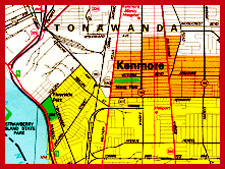 Map detail of Riverside Area - (N.Y.State Dept.of Transportation - Map of Erie County, 1990, scale 1:75,000)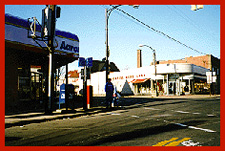 Intersection at Tonawanda and Ontario Streets
A view along the Niagara Expressway