West Side
---
Buffalo Psychiatric Center (1870-1896) (formerly Buffalo State Hospital), Henry Hobson Richardson, architect - (photo credit: UB Dept. of Art History Visual Resources)
Location:
This Buffalo neighborhood centers on Grant Street and is one of the largest neighborhoods by area in the city. The West Side runs west from Elmwood Avenue to Lake Erie and north from Porter Avenue to Buffalo State College.
---
High Schools
---
Neighborhood Associations
West Side N.H.S., 359 Connecticut Avenue
West Side Community Services, 161 Vermont Avenue.
The West Side is home to many important buildings. Among them is H.H. Richardson's Buffalo Psychiatric Center which is set amidst a parklike setting designed by F.L. Olmsted.
---
Internationally acclaimed for its outstanding acoustical design, Kleinhans Music Hall is home to the Buffalo Philharmonic Orchestra.
Other landmarks in the area include: the Peace Bridge (connecting Buffalo to Fort Erie, Ontario); the Connecticut Street Armory; and Trinity Episcopal Church (noted for its outstanding LaFarge and Tiffany stained glass windows).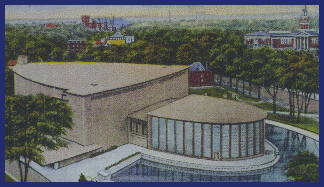 Sketch of Kleinhans Music Hall (1938-1940), Symphony Circle, Eliel & Eero Saarinen, F.J. & W.A. Kidd, architects - Charles C. Potwin, acoustical consultant - (photo credit: UB's Dept. of Art History Visual Resources)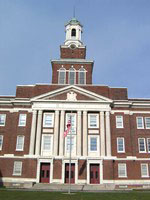 Grover Cleveland High School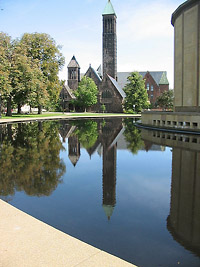 Kleinhans Music Hall & Symphony Circle
---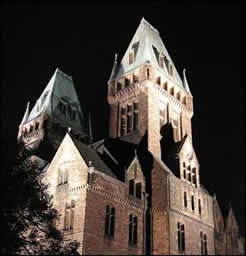 Buffalo Psychiatric Center (1870-1896) - (formerly Buffalo State Hospital) - Henry Hobson Richardson, architect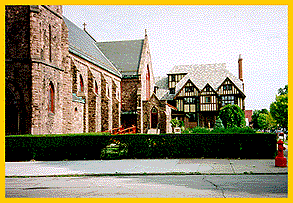 Annunciation Roman Catholic Church - 18 Greenwood Place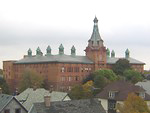 Lafayette High School
---
An interesting transportation pattern that has survived thruway construction are part of the F.L. Olmsted-designed Parkway. Bidwell Parkway, which is two hundred feet wide, runs westward to a circle at Richmond Avenue. It continues via Massachusetts and Porter Avenues to Front Park.
This neighborhood has a diverse population today including most recently Asian and Southeast Asian residents. Much of the neighborhood has been Italian-American for decades and the Annunciation and Holy Angels Roman Catholic Churches are cultural institutions.
---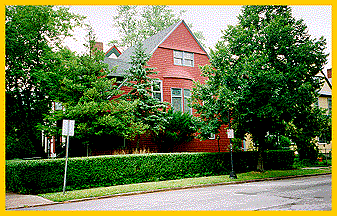 Home on Norwood Avenue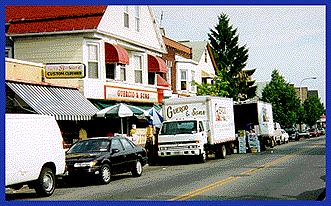 Guercio's Market, 250 Grant Street - On Grant Street, Guercio's Market and John's Italian Village Restaurant are traditional meeting places.