About the UB Sports History Collection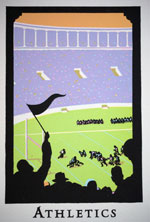 Started in 2012, the UB Sports History Collection website celebrates the uniquely rich history of Buffalo athletics, from the early competitions in 1890s student-run days and the Buffalo Intercollegiate Athletic Association, to the rise of University of Buffalo football program in the late-1950s, and the ultimate rebirth of UB Athletics at the Division I level.
This website features invaluable historical images from UB athletes and coaches and their contributions to the history of college sports in the United States, along with historical information and research on the origins, development and achievements of Bulls athletics.
The images within this site are from the University Archives. Rights and permissions to said images are subject to University Archives guidelines. For more information see the Special Collections Policies website.