1915 Buffalo Baseball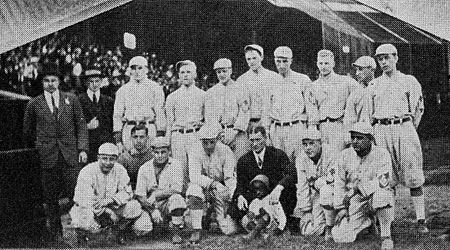 After playing baseball as a "club" team in 1914, the 1915 Buffalo baseball season marked the revival of baseball as a varsity sport at University of Buffalo after a thirteen year lapse.
Over 100 candidates reported for tryouts at the Broadway Auditorium on February 25, 1915.
The team was coached by two former Major League Baseball players in George "Heinie" Smith and Edmund Burke "Stubby" Magner.
Heinie Smith played Major League Baseball for the Pittsburgh Pirates (1899), New York Giants (1901-1902) and Detroit Tigers (1903).
Stubby Magner, all 5′ 3″ of him, played briefly for the New York Highlanders of the American League in 1911.
On April 24, 1915, Buffalo Chancellor Charles P. Norton threw out the first pitch for the U.B. home opener against the University of Rochester at the International Baseball Park located at East Ferry St. and Michigan Ave in the city of Buffalo.
Five hundred U. B. students marched from Townsend Hall on Niagara Square to ballpark. Mounted police and a band headed the parade, followed by automobiles with members of the faculty the six departments in them, and the howling students in the rear.
Over 1,000 fans filled the grandstand at International park as Buffalo whitewashed the University of Rochester 8-0. With victory won, the team member were hoisted to the shoulders of the students and the march back to the University building on High Street.
---

NEW U. OF B. BALL TEAM ANNOUNCES SCHEDULE

Nine Games in Buffalo – Open With Syracuse on April 10.

—

The schedule of the newest of college nines, the University of Buffalo squad, contains 18 games, nine to be played at Buffalo and the remaining nine out of town. A glance over the list will show that the local university certainly intend to play real college baseball. The committee in charge deserve great credit for the work they have done in so short a time at such short notice. Linked with the movement in establishing baseball at the local college comes the notice that active steps are being taken this week to establish an athletic association in carry on the other branches of sport.

The games in Buffalo will be played at the International Baseball park through the courtesy of Gerry Simon, president of the Bisons. Coaches George Smith and E.B. Magner, who have the squad in training, expect to take up outside practice at the Ferry street grounds as soon as weather permits.

H. Irwin Driggs, chairman of the schedule committee, has prepared the following schedule:

April 10 – U.B. vs. Syracuse university at Syracuse.

April 17 – U.B. vs. Niagara university at Niagara Falls.

April 21 – U.B. vs. Canisius college at Villa grounds, Buffalo.

April 24 – U.B. vs. University of Rochester at Buffalo.

May 1 – U.B. vs. St. Bonaventure college at Buffalo.

May 6 – U.B. vs. Allegheny college at Buffalo.

May 8 – U.B. vs. Keuka college at Keuka park..

May 12 – U.B. vs. Niagara university at Buffalo.

May 15 – U.B. vs. Mechanics institute at Rochester.

May 19 – U.B. vs. Hobart college at Buffalo.

May 22 – U.B. vs. St. Bonaventure at St. Bonaventure.

May 29 – U.B.  vs. Allegheny college at Meadville, PA.

June 5 – U.B. vs. Canisius college at International park.

June 9 – U.B. vs. Miami college at Oxford, Ohio.

Dates are pending with Carlisle, Alfred university, Oswego and Ohio Northern.

— Buffalo Evening News, March 18, 1915