1963 Buffalo Bulls Football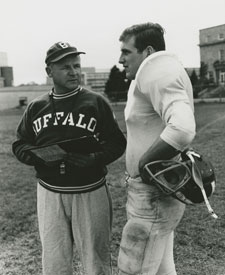 This year is the 50th anniversary of the 1963 Buffalo Bulls football team. A lot was expected out of the team. They were coming off a 6-3 record during the 1962 season — the university's first under the "major college" football heading — and had several important senior veterans returning. The U. B. football coaches made no bones about it. They were enthusiastic about the 1963 edition of the Bulls. The Bulls looked bigger, faster and meaner, and the coaches indicated seeing was believing.
"That's the best first day we've had since I've been here," Head Coach Dick Offenhamer said after putting his candidates through the first two lengthy practice sessions in mid-August of 1963. "We had a real fine workout" said defensive line coach James (Buddy) Ryan. "That Philbin and Gergley really are on edge to start hitting. Looks like they've been waiting all summer for the chance." Jerry Philbin and Larry Gergley were co-captains of the 1963 club. Heading the offense was John Stofa, the 6-3 quarterback whose effective sideline rushes and limber arm earned him the nickname "Long John" Stofa. But Stofa wasn't the only offensive weapon. The team was loaded with talent at the position. (see "U.B. Has 'Problem,' Four Quarterbacks" Buffalo Courier-Express, 25 August 1963)
Although expectations were high, the 1963 Bulls were confronted with what was considered their toughest schedule in school history. After the home opener against Gettysburg College, Buffalo took on Ohio University, Holy Cross, Villanova University, Marshall, Boston University, the University of Delaware, Boston College and Colgate University.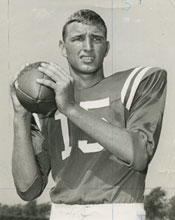 The season was mostly a success. A disappointing lose to Marshall at home was off-set by impressive road wins in Philadelphia against Villanova and in Boston against Boston University. In late November, twelve seniors, including co-captains Larry Gergley and Gerry Philbin, and quarterback John Stofa, played their final collegiate football game against Colgate University at Rotary Field. The Bulls' staunch defense kept Colgate off-balance on a cold, windy afternoon, forcing fumbles and interceptions on their way to a 23-0 shutout. The team would finish with 5 won, 3 lost, and one tie; not quite as good as the previous year, but impressive none the less consider the tough schedule.
Looking back on the team 50 years later, it truly was an impressive group of men. Dick Offenhamer would retire after the 1965 season serving as the head football coach at the University of Buffalo from 1955 to 1965, compiling a record of 58-37-5. In 1984, he was inducted in the U.B. Athletics Hall of Fame. In 1985, he was inducted in the Colgate Athletics Hall of Fame for baseball. In 1998, he was inducted into the Greater Buffalo Sports Hall of Fame. Defensive line coach James (Buddy) Ryan went on to have a long coaching career in the National Football League winning the Super Bowl with the 1985 Chicago Bears. Lineman Jim NcNally had a 28 year NFL coaching career. McNally played four years at U.B. (1961-64) and won himself a place in the U.B. Athletics Hall of Fame in 1982 in recognition of both his Bulls playing career and also his coaching expertise. Quarterback John Stofa played 5 years of professional football with the Miami Dolphins and the Cincinnati Bengals. Defensive end Gerry Philbin was drafted by both the Detroit Lions of the National Football League and the New York Jets of the American Football League in the third round of the 1964 draft. He joined the Jets and played stellar defense for them for nine seasons winning the Super Bowl with the 1968 Jets.
---
1963 Buffalo Football Season
| Date | Home Team | Score | Visiting Team | W-L-T | Location |
| --- | --- | --- | --- | --- | --- |
| Sat, 9/14/19631 | Buffalo | 34 – 0 | Gettysburg | W | Buffalo, NY |
| Sat, 9/21/19632 | Ohio University | 0 – 7 | Buffalo | W | Buffalo, NY |
| Sat, 9/28/19633 | Holy Cross | 6 – 6 | Buffalo | T | Worcester, MA |
| Sat, 10/5/19634 | Villanova | 14 – 7 | Buffalo | W | Philadelphia, PA |
| Sat, 10/12/19635 | Buffalo | 8 – 10 | Marshall | L | Buffalo, NY |
| Sat, 10/19/19636 | Boston University | 13 – 22 | Buffalo | W | Boston, MA |
| Sat, 11/2/19637 | Delaware | 34 – 6 | Buffalo | L | Newark, DE |
| Sat, 11/9/19638 | Boston College | 15 – 0 | Buffalo | L | Chestnut Hill, MA |
| Sat, 11/16/19639 | Buffalo | 23 – 0 | Colgate University | W | Buffalo, NY |
FINAL RECORD: 5-3-1
Home: Rotary Field, Bailey and Winspear Avenues
Coach: Dick Offenhamer
Total Points: Visiting Clubs:
Total Points: University of Buffalo:
---
"Not Much Battle in Gettysburg, Buffalo Romps to 34-0 Win" Binghamton Press, Binghamton, NY, 15 September 1963.
"Buffalo Upsets Ohio U by 7-0" Niagara Falls Gazette, Niagara Falls, NY, 22 September 1963.
"Orange Grid Hopes Chilled While Bulls Deadlock HC" Tonawanda News, Tonawanda, NY, 30 September 1963.
"UB Rallies To Defeat Villanova" Niagara Falls Gazette, Niagara Falls, NY, 6 October 1963.
"Marshall Edges Bulls" Niagara Falls Gazette, Niagara Falls, NY, 13 October 1963.
"Butler Shines in UB Victory" Tonawanda News, Tonawanda, NY, 21 October 1963.
"Delaware Nearing Poll Lead" Schenectady Gazette, Schenectady, NY, 7 November 1963.
"Boston Beats Buffalo on Concannon's Passes" Niagara Falls Gazette, Niagara Falls, NY, 10 November 1963.
"Colgate Can't Sit on Stofa" Binghamton Press, Binghamton, NY, 17 November 1963.
---
UB Has 'Problem,' Four Quarterbacks
—
Football practice is only two days old, but Head Coach Dick Offenhamer has a problem — the kind that makes grown men smile.
Offenhamer's dilemma is the first of its kind in his nine years at UB. He has an over-abundance of quarterbacks.
Tho coach also points out that Fred Duranko, a junior, and Fred Gehringer, a sophomore, are making determined bids for recognition in the position. Stofa is the roll-out proponent. With "Long John," the pass is the primary threat, but he has proved to be a dangerous runner when the passing lanes are blocked.
Gilbert goes the other way. He is what Offenhamer calls a "sprint-out" quarterback, with first thoughts for carrying the ball. Gilbert doesn't throw the 'long ball' forward pass, but is effective with the sideline and short-pattern pass. "With these two, it gives you a change of pace in the attack." Offie said Saturday after the second of two workout at Rotary Field. "We're in real good shape at quaterback."
"Duranko and Gehringer have been coming along real well. Gehringer's speed makes him similar to Gilbert in his game, while Duranko leans to Stofa's game."
Offenhamer has been switching Stofa and Gilbert from first and second team assignments to acquaint them with each unit.
"They'll be working with the first two teams and we want them to get the timing with each," he said. "Don and John are top-notch players. Don has the greater speed, but John has the all-important game experience, and he's a good heady football player."
The coach described Saturday's workouts as "close to deluxe." "We had a good slammer all the way and put the parts together for what could be a good scrimmage." However, he added, the Bulls won't have an all-out scrimmage "probably until next Saturday."
— Buffalo Courier-Express, August 25, 1963