1969 Buffalo Bulls Football
In early February of 1969, the football program at Buffalo was in major turmoil. Richard "Doc" Urich quit on February 4, 1969 to take a more secure job as head football coach at Northern Illinois. Urich admittedly had been in the market for a position with a more predictable future for some time. In October of 1968, Urich made it clear to associates he was seeking something of a football "policy" at U.B. and would find employment elsewhere if one failed to materialize. It appeared that much of the problems had been solved when students elected to reestablish a mandatory athletic fee. But the renewed fee was arbitrarily set at $5.50 a semester rather than the expected $12.50 level, so the program remained in trouble. In the days after Urich resigned, U.B. President Dr. Martin Meyerson warned that the intercollegiate football operation faced abolishment or vast reduction unless the financial troubles were erased. Yet another referendum was scheduled for sometime in March to increase the student athletic fee to an acceptable level.
Bob Deming Named Interim Coach
On February 15, 1969, Bob Deming was named interim head coach. Deming was a 33-year-old graduate of Colgate University and for 10 years an assistant at the University of Buffalo. He became the youngest head football coach in school history. He was well versed with the money woes but relished working with a group of young men like those "on whom I am staking my future and my reputation. I know that our team intends to get the job done — win and represent this campus with dignity." In early March of 1969, the undergraduate body of the University of Buffalo approved a referendum that was expected to breathe new life into the university's intercollegiate athletic operation as well as its intramural and recreational programs increasing the athletic fees to $25 a year. Football at U.B. was seemingly no longer in jeopardy; at least in the short term.
Spring Practice
During spring practice, quarterback Mick Murtha advised Head Coach Bob Deming that personal problems precluded him using his final year of football eligibility with the Bulls. Murtha was a starter as a sophomore and held the job throughout his junior year. He sat out the 1968 season after surgery corrected tendon troubles in his right shoulder. But a week or so later, Murtha reconsidered and rejoined the team. "I guess the best way to put it is I made a mistake," Murtha said. "I knew I'd miss it, but I didn't think it would be as tough as it was."
Slow Start
The season started out slowly as the favored Bulls lost on the road to Ball State, 10-7 on coach Bob Deming's 34th birthday and his head-coaching debut. The team rebounded with 2 wins. Going into their game against Dayton, the Bulls had a .500 record with 2 won & 2 lost. In mid-October, Holy Cross announced it had to cancel all its remaining games after tests revealed that its entire 75-member squad had contacted infectious Hepatitis A. The Bulls were slated to play at Holy Cross on October 18th so Buffalo tried to fill the new void. Rutgers and Holy Cross were to play on November 15, a date U.B. had open so Rutgers seemed like a good fit. "Rutgers has six home games already," explained sports public relations director Dick Baldwin, "and the feeling is they may be willing to play here. We play them in basketball, so the match is a natural." The Scarlet Knights were coached by former Buffalonian John Bateman so it was thought a game could be arranged. But Rutgers quickly rejected the offer outright. So the Bulls ended up having two openings, one planned and one unplanned, during the 1969 season and played only 9 games.
After the unexpected week off, Buffalo was scheduled to play against Virginia Tech at the Buffalo War Memorial Stadium. Before the season started, some reports had Virginia Tech as the best college team to ever play in Buffalo. And although they were win less at the time of the game, Virginia Tech was still considered U.B. toughest opponent of the season. The Bulls lost to Virginia Tech 21-7.(see "Virginia Tech Conquers Bulls, 21-7" Buffalo Courier-Express, 26 October 1969) But the biggest disappointment may have been the attendance or lack of it. A game against a nationally known opponent played on a pleasant October day failed to attract a respectable crowd. Afterwards, the Roanoke (Va.) Times snapped, "Buffalo is a bush league place to play college football. Less than 2,500 saw the game and that includes second and third string football players, 25 policemen and 13 pigeons who came only to look for peanuts." Ouch.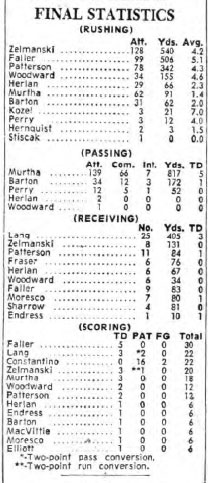 Late Season Roll
After the disappointing game with Virginia Tech, the Bulls went on a tear. In their stretch drive against Temple, Boston College and Villanova, they were superb. Temple simply was no match for the Bulls as Buffalo easily won 33-0. The Buffalo squad then completely dominated a Boston College squad, in Boston, that had posted victories over name schools such as Navy and Tulane and put national power Penn State to the test for three and a half quarters. (see "Buffalo Shocks Boston College, 35-21" Buffalo Courier-Express, 9 November 1969) Finally, against Villanova, the offense churned up 427 yards on the ground, something no other UB team ever has done. And the defense put a lid on one of the country's most point-productive football teams. But the Boston College victory stood out the most.
Afterthought Bowl
On November 23, 1969, officials at the University of Tampa contacted Coach Bob Deming with an offer, backed by a $15,000 guarantee, to play in what was dubbed as the "Afterthought Bowl." The game would be on December 6, 1969 in Tampa's new 52,000-seat stadium. But University of Buffalo officials quickly declined the offer. Dr. Lawrence A. Cappiello, acting director of physical education, recreation and athletics, said lack of practice facilities, a conflict with pending classroom examinations and the departure of the players for the holidays were the prime reasons for rejecting the offer. Coach Deming said the offer might have been accepted had it been made earlier in the season when the Bulls were seeking a contest to replace the illness-cancelled Holy Cross game. He also said, "It would be a fine reward for the players, but the minus factors overweighed the pluses. It's too bad it didn't come earlier." With the money woes the team faced all year, it's hard to understand why they rejected a $15,000 guaranteed pay-day.
U.B. Makes It Official
On December 12, 1969, "interim" was officially removed from Bob Deming's title and he became the Head Coach. Dr. Martin Meyerson, president of the university, announced the hiring. "Coach Doming has done a magnificent job as head coach." Meyerson told a press conference. "He has become one of the great coaches in U.B. history and, I believe, one of the great coaches in collegiate football." Meyerson said Deming would begin 1970 as head coach under a three year contract.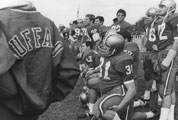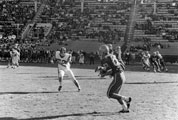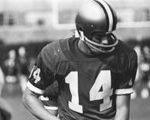 ---
1969 Buffalo Football Season
| Date | Home Team | Score | Visiting Team | W-L-T | Location |
| --- | --- | --- | --- | --- | --- |
| Sat, 9/13/19691 | Ball State | 10 – 7 | Buffalo | L | Muncie, IN |
| Sat, 9/20/19692 | Buffalo | 17 – 0 | Xavier | W | Buffalo, NY |
| Sat, 9/27/19693 | Massachusetts | 6 – 16 | Buffalo | W | Amherst, MA |
| Sat, 10/4/19694 | Buffalo | 8 – 17 | Kent State | L | Buffalo, NY |
| Sat, 10/11/19695 | Buffalo | 27 – 0 | Dayton | W | Buffalo, NY |
| Sat, 10/18/19696 | Holy Cross | canceled | Buffalo | — | — |
| Sat, 10/25/19697 | Buffalo | 7 – 21 | Virginia Tech | L | Buffalo, NY* |
| Sat, 11/1/19698 | Buffalo | 33 – 0 | Temple | W | Buffalo, NY |
| Sat, 11/8/19699 | Boston College | 21 – 35 | Buffalo | W | Chestnut Hill, MA |
| Sat, 11/15/1969 | — | open | — | — | — |
| Sat, 11/22/196910 | Villanova | 24 – 14 | Buffalo | W | Villanova, PA |
FINAL RECORD: 6-3-0
Home: Rotary Field, Bailey and Winspear Avenues;
*Game played at War Memorial Stadium, Jefferson Avenue and Best Street.
Coach: Bob Deming
Total Points: Visiting Clubs: 89
Total Points: University of Buffalo: 174
---
"Bulls Lose Opener to Ball State, 10-7" Buffalo Courier-Express Buffalo, NY, 14 September 1969.
"UB Defeats Xavier, 17-0" Buffalo Courier-Express Buffalo, NY, 21 September 1969.
"UB Beats Redmen, 16-6" Buffalo Courier-Express Buffalo, NY, 28 September 1969.
"Bowersox Sparkles As Kent Trips Bulls" Buffalo Courier-Express Buffalo, NY, 5 October 1969.
"Bulls Ground Flyers, 27-0, As Murtha, Zelmanski Shine" Buffalo Courier-Express Buffalo, NY, 12 October 1969.
"Holy Cross Cancels All Grid Tilts" Buffalo Courier-Express Buffalo, NY, 7 October 1969.
"Virginia Tech Conquers Bulls, 21-7" Buffalo Courier-Express Buffalo, NY, 26 October 1969.
"UB Gridders Belt Owls by 33-0 Edge" Buffalo Courier-Express Buffalo, NY, 2 November 1969.
"Buffalo Shocks Boston College, 35-21" Buffalo Courier-Express Buffalo, NY, 9 November 1969.
"UB Upsets Villanova in Finale, 24-14" Buffalo Courier-Express Buffalo, NY, 23 November 1969.
---


Virginia Tech Conquers Bulls, 21-7
Two Interceptions Help Hokies Notch Season's 1st Win
—
Virginia Tech brought its winless football ways to a halt Saturday by downing the University of Buffalo, 21-7, before an estimated 8,000 fans and 36,000 vacant seats in War Memorial Stadium.

The victory temporarily stalled the spectre of the Hokie's first losing season since 1961, but they still must beat William & Mary, Florida State, Duke and VMI to avoid a below-500 finish.
The Hokies turned two pass interceptions into scoring opportunities as they evened the Bulls "won-lose" record at 3-3, but it was a long afternoon for a team rated a step or two ahead of Buffalo.
Score After Interception
They got their first six-pointer on a 53-yard, 13 play drive after All-America linebacker Mike Widger intercepted UB quarterback Mick Murtha's first pass attempt of the day.
Terry Smoot, whose's 103-yard rushing total for the game makes him the second-leading ground gainer in VPI history, powered over from the one-yard line to end the drive and kicking specialist Jack Simscak added the point.
The Bulls countered with a 60-yard march which ended at the Tech 18 before the first period came to a close. Mike Constantino's field goal try from the 28 was partially blocked died at the Tech one.
UB Gets Tying TD
Murtha went back to the air game in the second period and took his team on another fruitless sortie of 51 yards only to have it dwindle at the Virginians' six. Undismayed, he got the club on the board their next series, moving 58 yards in seven plays.
The scoring march was featured by 26 yards in penalties against the souped up Hokies. Murtha's 12-yard screen pass to fullback Joe Zelmanski and the formers pin-pointer pass completion to split end Joe Moresco deep in the Tech end zone. The scoring play covered nine yards and Constantino added the point.
Tech's sophomore quarterback, Bob German, got his club going with two quick passes totaling 48 yards and a first down at the Buffalo 19, but three plays later Smoot fumbled to kill the drive.
Tech Regains Lead
But Tech didn't stay in the deadlock for long, getting the go-ahead score with 46 seconds remaining in the first half. German hit split end Wayne Humphries on a 28-yard bomb that gave the Hokies a first down at the Buffalo two, and two plays later Perry Tiberio slammed over for their second TD.
The third canto was a duel of the nation's fourth-leading punter (Simscak) and the 24th (Buffalo's Larry Hart). Simscak had slightly the better of things, but the margin could have been attributed to a trailing wind. In any event, it was a scoreless period and the underdog Bulls were very much alive.
Until…Buffalo's first play of the final period. Murtha was under a strong rush from the Hokie linebackers and his pass was picked off by defensive tackle Steve Bocko at the Buffalo 23. The hulking lineman rumbled to the 15 with the return.
Smoot Scores TD
Smoot picked up two yards on the first down and then sniveled his way 13 for the insurance touchdown, which Simscak complemented with his third placement conversion.
German, the rangiest passer the Bulls have faced this year (he's 6'4"),was removed from the game late in the third period when he suffered a slight concussion.
By then he had done his damaging work against Buffalo.He had a perfect day with 10 completions in as many tries for 130 yards.
Murtha, who completed eight of 21 passes for 102 yards and one touchdown, also added seven on the turf and the total brought his three-year output to 2,753 yards, 23 more than form e r quarterback John Stofa of the first 1961-62-63 era. But h e couldn't care less under the circumstances.
Good Punting Average
Simscak, who went into the with a 44.9-yard punting average, finished the day with a 44.0 average on 11 punts. Hart started with a 40.7 average and averaged 43.0 on 10 boots.
"The best thing about today," Tech coach Jerry Claiborne said after, "is us getting on the scoreboard. It's been a long, long time." Tech's losing string stretches to six games if one counts their setback to Mississippi in last year's Liberty Bowl.
Buffalo makes its next start at Rotary Field Saturday against Temple while the lads from Blacksburg, VA. rest a week before meeting William & Mary at their campus stadium.
— Buffalo Courier-Express, October 26, 1969
---


Buffalo Shocks Boston College, 35-21
Murtha Directs Bulls to 5th Win, Year's Top Score
—
The University of Buffalo football Bulls, under the masterful direction of Mick Murtha, buried Boston College under a 35-21 avalanche Saturday before 20,500 fans at Alumni Stadium.
The senior quarterback picked the Eagles' secondary to shreds with nine pass completions for 141 yards and one touchdown in the first half, then brought the Bulls back from a one-point deficit in the second with ball control tactics, graciously assisted by Boston mistakes.
The scoring output was the highest of the season for Buffalo, and the victory assures Bob Deming of a winning season in his first year at the helm.
Eagle's Fourth Defeat
The Eagles, who had beaten Navy and Tulane before loses to Villanova, Army and Penn State, have a 2-4 record and the Bulls are 5-3.
Twice in the first half, the Bulls magnificent defense turned off Boston scoring threats, including one that crumbled at pass the UB 7. Early in the second period, Buffalo stopped a drive and turned it into a staging site of its own.
Murtha called the shots in a 68-yard march on eight plays, the longest being a 34-yard completion to split end Mike Sharrow to the Boston 15. Halfback John Faller slid off tackle for three yards and a touchdown four plays later and Mike Constantino added the first of three placement conversions.
Kecher Down on 20
The Eagles were unable to get anything going on their next series and punt specialist John O'Hagen was sent to work. A poor snap from center enables defensive end Prentice Henley to spoil O'Hagen's hopes of getting the ball away, and end Tom Vigneau helped crunch the would-be kicker at the Boston 20.
On the fourth play following the exchange of possession, Murtha rolled to his left, squared himself and threw a 14-yard looper to halfback Pat Patterson, who was all some in the right corner of the end zone. Constantino's placement try failed.
The Eagles came to life,with quarterback Frank Harris clicking on a 22 yard pass to halfback Billy Thomas, then scooting 33 yards on a keeper to the Buffalo 15. He hit end John Bonistalli from there for the Eagles' first score and kicker Charlie Toczylowski booted the first of two successes.
Eagles Take Lead
The Eagles went ahead briefly in the third period, one of the longest 15 minutes in the 100 year history of the game and one of the wildest.
In the quarter there were no less than two pass interceptions, three fumbles and two touchdowns.
The Boston go-ahead TD came on a 46-yarder from Harris to Bonistalli, who was being covered by Buffalo cornerback Mark MacVittie. The former Williamsville high star slipped in going for the arching aerial and Bonistalli had the pass. Toczylowski's kick gave Boston a 14-13 edge with seven minutes remaining in the period.
Henley Recovers Fumble
A few minutes later, the Bulls' Henley pounced on Fred Willis pitchout fumble and Buffalo took over at the Boston 22. Murtha called on Faller for four and fullback Joe Zelmanski for five before Faller picked up a first down at the 10. Zelmanski went to the eight and Faller ripped to the one, from where Zelmanski churned over for the go-ahead touchdown. Murtha then threw to tight end Paul Lang for a two-point conversion.
Constatino's 35-yard field was wide by inches with 6:22 remaining in the game and naturally the Eagles went to the air. Harris threw down the middle from his 31 for Bonistalli, but safetyman Tom Elliot dived in front of the intended receiver for his third interception of the year.
Faller Gets Second TD
The Bulls, mindful of the clock and Harris' passing talents, stuck grimly to the ground for 41 yards and a score that took 11 plays. Faller went the final yard for his second score of the day and it looked like it was all over with 45 seconds to play.
But it wasn't by two touchdowns.
Joel Jacobs picked off a Harris pass at the Boston 43 and took it back to the six. On the second maneuver from there Murtha passed four yards to Lang for another Buffalo score.
97-yard Kickoff Return
Only 25 seconds left. All over, Right? Nope. Eddie Rideout took the ensuing kickoff on his three and raced 97 yards through the UB reserve kickoff team for a touchdown Boston's third six-pointer.
Lang recovered Boston's onside kick and wasted the last two seconds.
Murtha, whose only loss in Alumni Stadium was in a 22-21 decision to the Eagles in 1966, completed 12 of 19 passes for 144 yards and two touchdowns. Harris was 12 for 23 for 174 yards and the same number of scores,but three of his tries fell into Buffalo hands.
Faller Gains 79 Yards
The Bulls went into the contest with the nation's fourth best pass defense, but it had only stolen two enemy passes.
Faller was Buffalo's leading rusher with 79 yards and Zelmanski accounted for 66. Jim Catone led the Eagles on the muddied turf with 54 yards in 13 carries. Faller also grabbed three Murtha throws for 47 yards and Patterson had an equal number for 30. Bonistalli led that department, however, with four catches for 85 yards.
The Eagles, still hoping for a winning campaign, take on VMI next week at home and the Bulls rest up with an open date. Buffalo closes its season the following week against high-geared Villanova.
— Buffalo Courier-Express, November 9, 1969