1970 Buffalo Bulls Football
The 1970 Buffalo Football team was coming off a successful 1969 season when the team won six games and lost only three. The 1970 edition of the Buffalo Bulls was Bob Deming's second year as the head coach. Deming's young, talented coaching staff included two assistants, Jim McNally and Rick Lantz, who would eventually have long coaching careers in the NFL. The 1970 schedule included future ACC teams Virginia Tech and Boston College as well as future Big East teams Villanova and Temple. And in a first for U.B. football, the October 31, 1970 game with Holy Cross would be regionally televised by ABC for the eastern part of the country. Quite a schedule.
Unfortunately, the 1970 season did not go well. The team lost several players from 1969 due to graduation. And injuries would also have a major impact on the team. In fact, the spring practice period had to be shortened due to a lack of healthy players. Not a good way to start. Kirk Barton, who replaced Mick Murtha at quarterback, was mostly ineffective and threw only one touchdown pass the entire season.
The televised Holy Cross game on the afternoon of October 31, 1970 received the most attention; but not for the actual football game. The game, won by U.B. 16-0, is now a mere footnote in UB history. The real story was the events that took place during halftime.
The U.B. Marching Band planned its halftime show to make a political statement in opposition to the Vietnam War and other concerns of the era. The halftime performance was titled "Give Peace a Chance" and included tributes to the anti-war movement, Martin Luther King and environmental concerns.
But in order to avoid any controversy, ABC chose to turn its cameras away and instead showed the traffic on Bailey Ave, elm trees and clouds in the sky while announcers gave a run-down of the first half.
Meanwhile, about 400 protesters had gathered at Niagara Square to participate in a march called by the Buffalo Anti-War Coalition. They marched down Court and Main streets and various other places in downtown Buffalo.
The group was ordered by the police to disperse which it did. But about 100 protesters eventually gathered at the Buffalo-Holy Cross game chanting "Power to the People!" after the halftime show adding to controversy.
The events of halftime during the Buffalo/Holy Cross game warranted the entire front page of the November 2, 1970 issue of the UB Spectrum. Students were outraged at the "American Big brother Censors…" The UB Reporter took a more conservative approach to the events with a small article entitled "Radicalism Comes to Rotary" in their November 5, 1970 issue.
The students felt the actions of ABC were so egregious that on October 7, 1971, the SUNY Buffalo Student Association filed a complaint with the FCC against ABC. The Student Association alleged that the American Broadcasting Company engaged in improper broadcast censorship of political expression and asked that ABC be required to broadcast a film or other reproduction of the half-time program at a suitable time to a similar audience, or, in the alternative, require ABC to make time available for the Buffalo Student Association to convey the ideas and information contained in its half-time program through another format.
On March 2, 1973, the Buffalo complaint was denied. But a transcript of the half-time program, diagrams of the band formations and all documents filed in the case remain on file in the Commission offices and are available for public inspection.
And the 1970 U.B. football team? It lost the rest of its games after the ABC affair including a 65-12 drilling by Boston College the following week. The team ended the difficult season with two wins against nine loses. (see "'Longest Season' Finally Ends for Deming and Bulls" Buffalo Courier-Express, 23 November 1970)
No one knew it at the time but the 1970 Buffalo/Holy Cross football game would be the final one on campus for some time. Buffalo dropped football a few months later.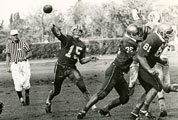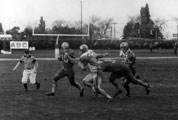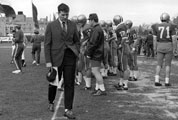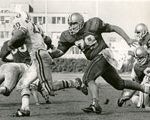 ---
1970 Buffalo Football Season
| Date | Home Team | Score | Visiting Team | W-L-T | Location |
| --- | --- | --- | --- | --- | --- |
| Sat, 9/12/19701 | Buffalo | 7 – 14 | Ball State | L | Buffalo, NY |
| Sat, 9/19/19702 | Buffalo | 6 – 27 | Toledo | L | Buffalo, NY |
| Sat, 9/26/19703 | Kent State | 27 – 21 | Buffalo | L | Kent, OH |
| Sat, 10/3/19704 | Buffalo | 16 – 13 | Massachusetts | W | Buffalo, NY |
| Sat, 10/10/19705 | Buffalo | 7 – 17 | Villanova | L | Buffalo, NY |
| Sat, 10/17/19706 | Dayton | 41 – 0 | Buffalo | L | Dayton, OH |
| Sat, 10/24/19707 | Virginia Tech | 31 – 14 | Buffalo | L | Blacksburg, VA |
| Sat, 10/31/19708 | Buffalo | 16 – 0 | Holy Cross | W | Buffalo, NY |
| Sat, 11/7/19709 | Boston College | 65 – 12 | Buffalo | L | Chestnut Hill, MA |
| Sat, 11/14/197010 | Temple | 21 – 8 | Buffalo | L | Philadelphia, PA |
| Sat, 11/21/197011 | Northern Illinois | 43 – 26 | Buffalo | L | DeKalb, IL |
FINAL RECORD: 2-9-0
Home: Rotary Field, Bailey and Winspear Avenues
Coach: Bob Deming
Total Points: Visiting Clubs: 299
Total Points: University of Buffalo: 133
---
"Nance Scores, But Bulls Bow" Niagara Falls Gazette Niagara Falls, NY, 13 September 1970.
"Toledo Whips UB" Buffalo Courier-Express Buffalo, NY, 20 September 1970.
"Kent State Hands UB 3rd Loss in Row" Buffalo Courier-Express Buffalo, NY, 27 September 1970.
"Barton's Pressure Cooker Play Leads Bulls to First Win, 16-13" Buffalo Courier-Express Buffalo, NY, 4 October 1970.
"Versatile Villanova Trio Sets Pace in 17-7 Victory Over UB" Buffalo Courier-Express Buffalo, NY, 11 October 1970.
"Dayton Batters UB, 41 to 0" Buffalo Courier-Express Buffalo, NY, 18 October 1970.
"Virginia Tech Rolls Over Bulls, 31-14" Buffalo Courier-Express Buffalo, NY, 25 October 1970.
Bulls Beat Holy Cross" Buffalo Courier-Express Buffalo, NY, 1 November 1970.
"Boston College Drubs UB for 65-12 Victor" Buffalo Courier-Express Buffalo, NY, 8 November 1970.
"Temple Conquers UB For 7th Victory, 21 – 8" Buffalo Courier-Express Buffalo, NY, 15 November 1970.
"Huskies Whip Bulls, 43-26" Buffalo Courier-Express Buffalo, NY, 22 November 1970.
---
'Longest Season' Finally Ends for Deming and Bulls
Bob Deming has discovered a new, if not enjoyable, method of taking off weight: Coach a losing football team. The reducing program came to an end Saturday afternoon when his University of Buffalo Bulls completed its nightmarish schedule against Northern Illinois.
The outcome of the final game of 1970 was similar to nine other Saturdays in a campaign that falsely had been viewed in preseason days as one of the most promising in the university's gridiron history.
Only Two Victories
But Deming's face was a reflection of a 2-9 production as the team's jetliner screamed its way back to Buffalo. What happened? Maybe it was the evil trick graduation played on Deming and his staff. Only a few players had picked up their diplomas last spring and the senior population on this year's UB squad was the largest in many years.
Yet those graduated proved to be vitally important parts of the 1969 machine that had found its tracks and compiled a 6-3 record. The likes of Mick Murtha and Paul Lang obviously were greater contributors to Buffalo's earlier successes than originally believed.
Losingest Team
This year the Bulls played 11 games. No other UB team had played that many games. In losing nine times the Bulls had become the losingest in UB history. And that was the formula that pushed Deming into his involuntary weight-reduction. Sleepless nights and a stomach tormented by marching, hobnailed boots precludes an interest in calories. Somehow through the torturous schedule the young coach maintained his composure. Seldom did he unload his feelings on the players, breaking his silence only after particularly inept exhibitions.
Looking Ahead
The coaching staff moves into the 1971 season today when it begins revamping depth charts and launching into recruitment. One of his major rebuilding jobs will be within himself. He has never said so publicly, but he has blamed himself for much of the situation. It is an unfair judgment. There were too many other factors involved in this year's dip for the coach to shoulder all the blame.
— Buffalo Courier-Express, November 23, 1970