Alumni Arena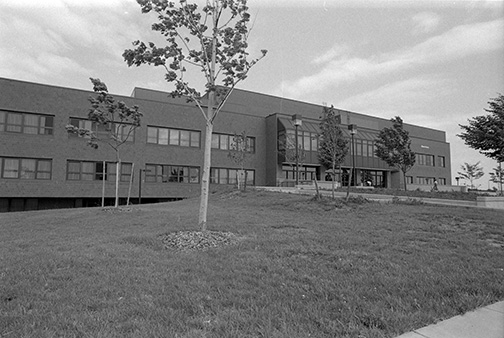 ---
Location:
North
---
Historical Note:
The health, physical education, and recreation complex on UB's North Campus, called "Alumni Arena," is home for many of UB's Division of Athletic Division I events. The building, constructed in two phases between 1982-1985, includes a 10,000-seat gymnasium for basketball, wrestling or volleyball competitions as well as for commencement ceremonies and numerous lectures from the Distinguished Speaker Series.
Alumni Arena is also home to the Department of Theatre & Dance administration (performance and rehearsal spaces are in the Center for the Arts next door). There are also spaces for scene and costume shops, a craft room, and a design suite with multi-station CAD facilities.
---
Namesake:
Alumni Arena was "named in honor of the nearly 100,000 individuals who have graduated from the University since its founding in 1846, in tribute to their many distinctions and in recognition of the wide range of contributions they have made to both the University and to society" (1982 dedication program).
---
History/Chronology:
1979 -- (May) Phase I of construction started
1982 -- (March) Phase I of construction completed ($12.9 million)
1982 -- (December 4-5) Dedication of Alumni Arena
1983 -- (July 5) Phase II of construction started
1985 -- (April) Phase II construction completed ($18 million)
---
Original Architect:
Robert Trayham Coles of Buffalo (phases I and II)
Original Contractors:
Siegfried Construction Company (Phase I), Migliore Construction Company (phase II)
Construction Cost:
$26,309,000
Original Size:
391,865 gross sq. ft.
Construction Note:
Phase II included a gymnastics area, a dance studio, a wrestling room, a triple gym, and a natatorium with an eight-lane Olympic-size pool.