Everything Help
The "Everything" search engine, powered by the Summon Discovery Service, provides a Google-like experience, allowing researchers to use one search box to discover reliable library content.
---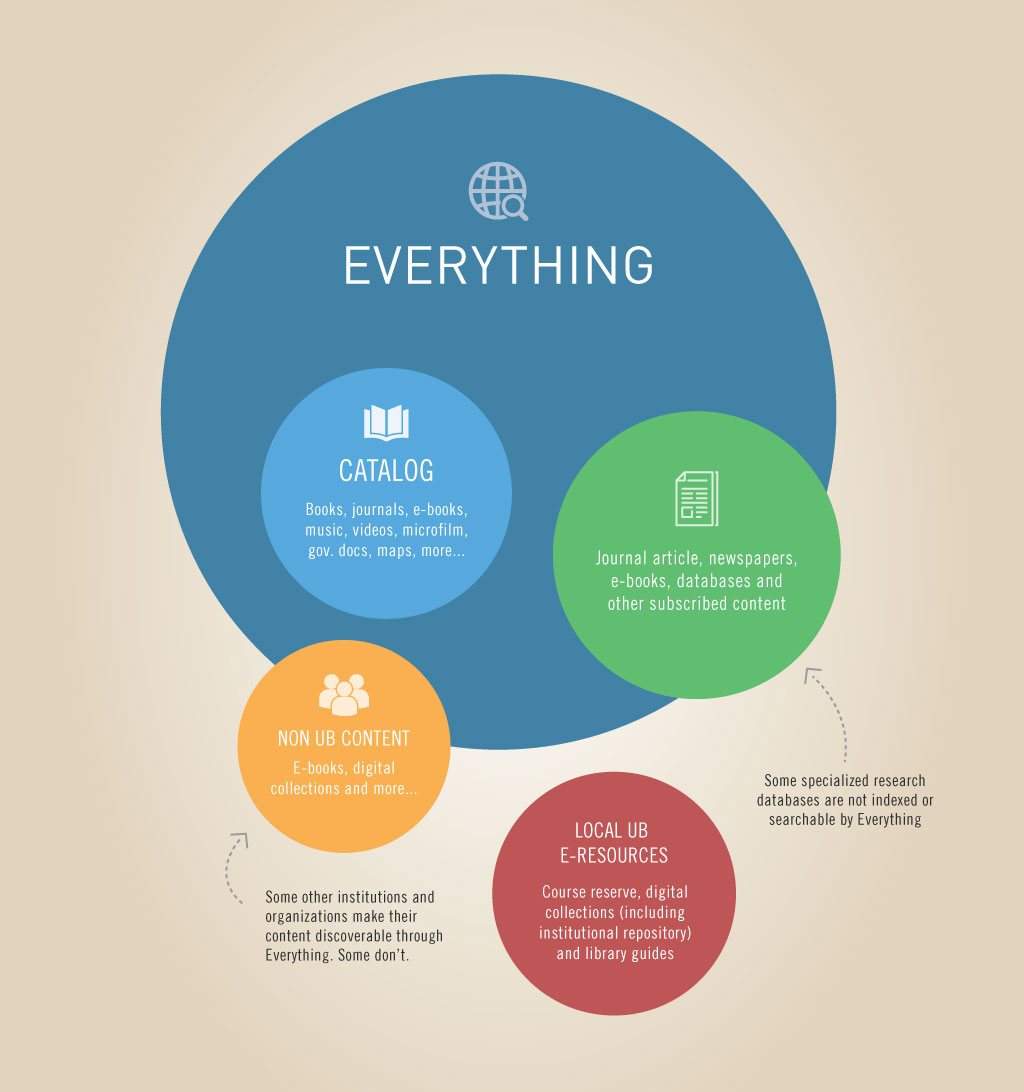 Frequently Asked Questions about Everything search
---
What is and is not in Everything?
What's in Everything?
Everything searches most:
Journal articles (scholarly and peer-reviewed)
Newspaper, magazine, newsletter articles
Conference proceedings
E-Books
Databases
Some databases and journals have full-text indexing, others are indexed just by citation information (e.g., title, author, abstract, etc.).
It includes everything found in the Catalog as well.
What's not in Everything?
While it includes content from most of the UB Libraries databases, it does not include everything the UB Libraries subscribe to. There are some resources that publishers/vendors do not allow to be indexed in Summon and therefore the resources are only available from our E-Journals tab.
Specialized and comprehensive searches on a topic should be done using our subject-specific databases. For information on which databases best meet your needs, consult our Research Guides or contact a Subject Librarian.
There are also several local UB Libraries e-Resources not included in Everything: Course Reserve, Digital Collections (including the Institutional Repository) and Research Guides.
In other words, Everything searches almost – but not quite! – everything.
---
How does Everything compare to the Catalog and Classic Catalog?
Everything is all inclusive, in that more resources are indexed (books, journals, databases). Everything uses a refine result approach, drilling down to the article/chapter level. There is more granularity. There is some ability to weight certain resources to bring them to the top of the results list.
The Catalog and Classic Catalog are title-level records of library selected materials. The catalogs are good for "known-item" searches. Searching by subject in the catalogs probably provides more relevant results from the initial search.
Results are neutral in order, not weighed, and can be sorted by date, call number, author, title and format.
The Catalog and Classic Catalog can locate books, journals, proceedings, etc. that we have title records for, both in print and electronic. We can link out to the electronic versions for further browsing.
Everything can search for books, journals, etc. too, but also searches for chapters and articles at the same time.
---
When should I use Everything?
Everything is a great starting point when you're just beginning your research, or when you're not quite sure what you're looking for or where to start.
If you are looking for a particular book or journal, then sometimes the Catalog, E-Journals tab, or a database are fastest. But if you're looking to see what's available anywhere in any format, Everything allows you to cast a very wide net and gradually narrow your results.
---
What are the advantages of using Everything?
Everything provides a quick and simple way of starting your general research. You can see, search, and access multiple resources from one single search box. When you search via Everything, you can search books and articles, citations and full text, at the same time. Catalog materials, articles from databases that cover various disciplines, full-text electronic books, journals, and newspapers are all included. Thus, Everything gives you unified access to the broadest range of research materials.
In addition, wherever full text is available, Everything provides a quick link directly to this content, whenever possible. When a quick link to content isn't possible, Everything provides links to Delivery+ and other routes for obtaining the materials.
---
I can't find [an article, book, resource] in Everything. Where can I find it?
Can't find a specific article in Everything?
Try an "exact phrase" search on the article title in Everything to narrow your results
Try searching Everything using a few words in the title, while limiting your results to "Journal Article" in the "ContentType" facet (example)
Can't find a specific book in Everything?
Try searching Everything using a few words in the title, while limiting your results to "Book/eBook" in the "ContentType" facet (example)
Try an advanced search in Everything using "Title" or "Author" (if looking for a specific book) (search results example)
Try a search in the Libraries' Catalog
Can't find a specific journal in Everything?
Try searching Everything using a few words in the journal title, while limiting your search results to "Journal/eJournal" in the "ContentType" facet (example)
Try a title search in the E-Journals tab to determine if we have it available online
If the journal is not available online, attempt your journal title search in the Libraries' Catalog
Does it appear that the Libraries don't own the item?
If any publication that you are looking for is not currently available at UB, request it through Delivery+
If you wish to contact a Librarian regarding any issue, try one of the alternatives on our Ask a Librarian page
---
How can I make use of advanced search strategies in Everything?
Everything supports the use of advanced search strategies such as phrase searching, Boolean operators, wildcards, field searching, and automated query expansion.
Phrase Searching
Everything allows for phrase searching with the use of double quotes. The query "teacher education" will find results containing that phrase.
Boolean Operators
Everything offers the following Boolean operations: AND, OR, and NOT. The operators must be written in ALL CAPS to ensure that they are interpreted as Boolean operators.
Wildcard Use
Wildcard searches expand a search and will increase the number of results returned. Searches within Everything can be performed using the question mark (?) and/or the asterisk (*).
Note: Wildcards cannot be used as the first character of a search, nor should a wildcard be used within double quotes (phrase searching).
Proximity Searching
Proximity searches limit result sets to terms within a specified number of words from each other. To perform a proximity search, enclose your search terms in quotation marks and use the tilde (~) followed by a number indicating the distance you want to allow between the search terms.
Searching Specific Fields
The single search box in Everything (basic search box or keyword search box in advanced search) will search across many fields automatically. You can explicitly search within a single specific field using the syntax: field:(query).
Automated Query Expansion
Automated Query Expansion improves search recall by including additional keywords for common topical queries; these results can be excluded to restrict the search back to original search terms only.
---
How do I access full-text from off-campus?
Most electronic resources are licensed for use only by the students, faculty, and staff at UB. When accessing these resources off campus users will be routed to log in screen that requests their UBIT name and password. Users can install the UB Libraries Proxy bookmarklet to speed this process.
If you still cannot access material after the log in screen (or the log in screen does not appear) please attempt the following:
Turn off all VPN (Virtual Private Network) software that is running on your machine. This software can interfere with UB's authentication system.
Enable cookies in your browser. Many of our resources require cookies and will not function if they are not available.
Contact our Technical Support Team using our online form.
---
How do I report problems with Everything?
If you are having trouble finding a resource click the "Ask a Librarian" link in the top right corner of the Everything interface. Use one of the options on the page that opens to contact a librarian for assistance with your research.
If you have found a resource but it not opening or you are receiving an error message then click the "Feedback" link in the top right corner of the Everything interface. Fill out the form in the box that opens with as much detail as possible including if you are on or off campus and the browser you are using.