"Do you not know that to-night, when the clock strikes midnight, all the evil things in the world will have full sway?"  -Bram Stoker, Dracula
In celebration of Halloween, the University Libraries present the most famous vampire novel of them all – Dracula! A classic of Gothic horror, the novel introduces the character of the vampire, Count Dracula, and tells the story of Dracula's attempt to move from Transylvania to England. There, he victimizes innocent people in order to find new blood and spread the curse of the undead. To date, Dracula has inspired hundreds of adaptations and spin-offs, including plays, novels and films, as well as comic books and breakfast cereal.
Bram Stoker, the author of Dracula, was born in Dublin, Ireland in 1847. He was the business manager of the Lyceum Theatre in London, and personal assistant to Henry Irving, one of the theatre's most famous Shakespearian actors. Henry Irving is said to have inspired the character Count Dracula in Stoker's novel, and Stoker hoped that Irving, with his courtly mannerisms and dramatic talent in playing theatrical villains, would play Dracula in the stage adaptation of his novel. However, Irving never agreed to appear in the stage version, although the play was produced at the Lyceum Theatre. Bram Stoker died on April 20, 1912 at the age of 64.
Pictured below is a first edition of Dracula. Published in 1897 by Archibald Constable and Company, this volume is housed in the Rare Books Collection of the University Libraries, 420 Capen Hall, and includes a note signed by Bram Stoker.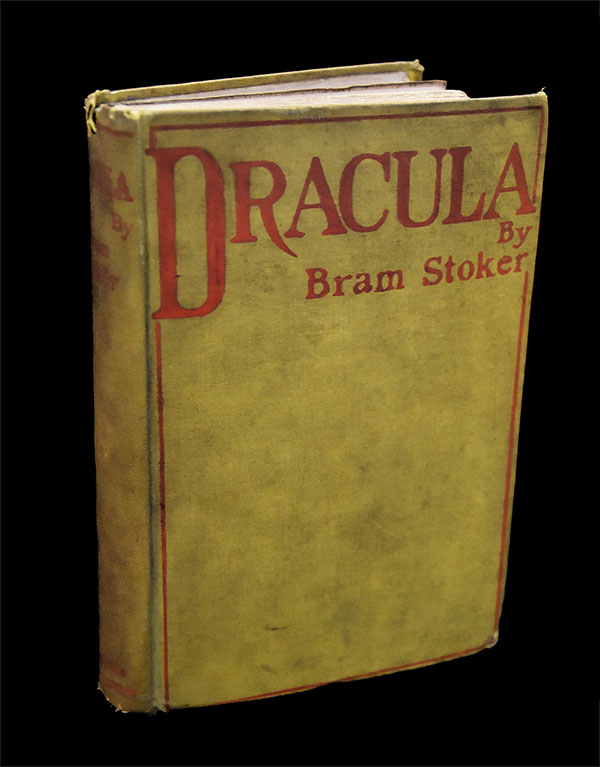 Front cover of the first edition of Bram Stoker's Dracula, published in 1897 by Archibald Constable and Company. The cover design is simple but striking: bold red letters stand out against a yellow cover. This volume is housed in the University Libraries Rare Books Collection, 420 Capen Hall.