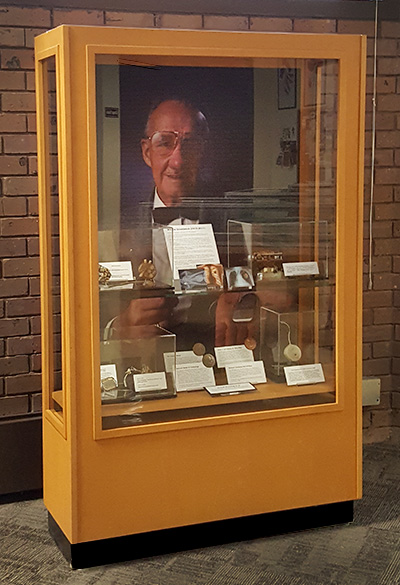 The permanent exhibit in the Science & Engineering Information Center in Lockwood Library honoring Wilson Greatbatch, inventor of the first implantable cardiac pacemaker, has been given a dynamic new look.
The historical materials that comprise the exhibit are shown to advantage in the newly refurbished display. They include a 1960 pacemaker potted in epoxy and coated with silicone rubber as well as one of the first programmable cardiac pacemakers dating from 1968 along with original battery packs, connection wires, and other components. David Bertuca, Associate Librarian, Lockwood Library, is curator of the exhibit and Kim Wagner, Exhibit Support Specialist, created the overall design.
A native of Buffalo, Wilson Greatbatch was born on September 6, 1919. He earned his bachelor of engineering degree from Cornell University in 1950 and a master's degree in electrical engineering from UB in 1957. Shortly after teaming up with William C. Chardack, then chief of surgery at Buffalo's Veterans Administration Hospital, the two men on April 15, 1960, successfully implanted the first fully working pacemaker into a 77-year-old cardiac patient, Harry Hennafeld. By 1961, Medatronics Inc. had licensed the Greatbatch-Chardack pacemaker, which dominated the field for more than a decade.
Greatbatch taught as an assistant professor in the Department of Electrical Engineering at UB for a number of years. In 1981, the UB Alumni Association honored him with its Distinguished Alumni Award. He was inducted in into the National Inventor's Hall of Fame in 1986 for his invention of the life-saving implantable cardiac pacemaker. That same year he received the prestigious National Medal of Technology, the highest honor bestowed by the President of the United States to America's leading innovators.
Interviewed for the March 1999 issue of IEEE Spectrum, Greatbatch talked about his first job repairing radios in a Buffalo repair shop in 1938 for $12 a week. His personal hero was Thomas Edison and his favorite authors were Herman Melville and James Michener. Asked what his personal philosophy was, he replied: "Don't fear failure, don't crave success. Just immerse yourself in the problem and work hard. The true reward is not in the results but in the doing."
Wilson Greatbatch died at the age of 92 on September 27, 2011.