UB librarians are passionate about helping others. That passion has inspired several members of the Libraries' staff to assist communities facing educational and humanitarian challenges in a variety of locations around the globe. From a small village in Ghana, to hurricane-ravaged Puerto Rico, to a bustling campus in Singapore, our librarians are extending their outreach efforts and making a positive impact on the global community.   
When Dorothy Siaw-Asamoah, UB School of Management clinical assistant professor, needed an educational technology expert to join one of her annual missions to Ghana for HOSIKIDS, a non-profit organization dedicated to bridging the global technology gap, she turned to associate librarian Cindi Tysick, head of the UB Libraries' Educational Services Team. Siaw-Asamoah, a native of Ghana, organizes annual trips to Ghana aimed at improving access to quality education and healthcare for children living in the West African nation. She knew that Tysick's educational technology skills and online learning expertise could help make a difference in the lives of students and teachers in Ghana.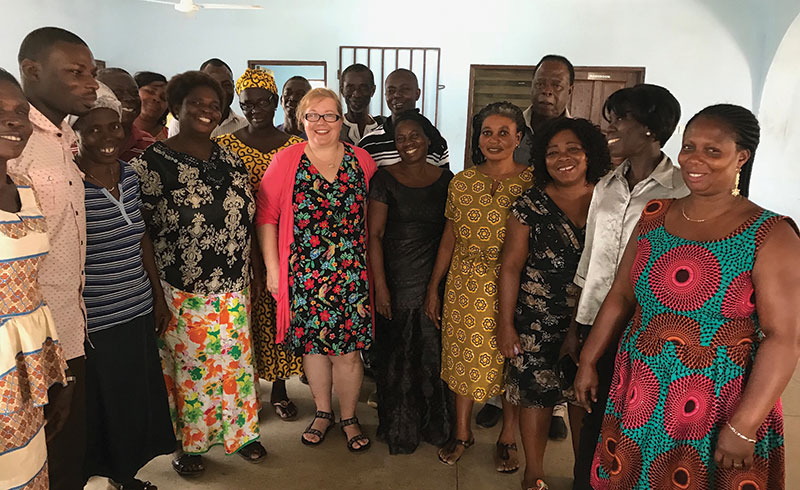 In July 2017, Tysick traveled to Ghana with Siaw-Asamoah's group of volunteers. While there, she presented workshops for librarians at the University of Cape Coast and Accra Business School, sharing best practices for developing grant-funded projects, discussing open educational resources, and helping the Ghanaian librarians refine project ideas, develop needs assessments and plan budgets.
"My experiences in Ghana were a vivid reminder of the fact that many people in developing countries don't have the luxury of time because they're busy simply surviving," says Tysick. "Since technology drives everything we do, and is such an important part of our survival and our success, it's hard to understand how people can live without it."
Returning to UB, Tysick shared a message with her library colleagues: "You can make a tremendous difference." Her words resonated with senior assistant librarian, Nicole Thomas, a member of the Libraries' Educational Services Team. When Thomas learned that Tysick was planning a return visit to Ghana with Siaw-Asamoah's student volunteers in January 2018, she was eager to join the group.
Arriving in Ghana, the two librarians traveled to a small village located about an hour's drive outside Accra where they worked with teachers and students at a primary school supported by the HOSIKIDS Foundation. The 500+ students enrolled in the school outnumber the resources that the school can provide, so the students have to share books, basic supplies and a few donated laptops. Thomas and Tysick spent several days at the school, presenting workshops, holding discussion sessions, and introducing the teachers to open access curriculum materials. "There are many opportunities for us to build bridges," says Thomas. "The teachers and students I worked with in Ghana really appreciated our help. I'm definitely interested in returning to Ghana, perhaps next year, to continue the work there."
---
Brian Detweiler
Lending a Hand in Puerto Rico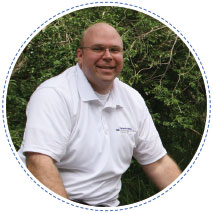 Hurricane Maria, one of the most intense Atlantic hurricanes on record, made landfall in Puerto Rico on September 20, 2017, causing widespread damage to the island's infrastructure. Months after the disaster, thousands of residents were still living without electricity and running water, their homes damaged or destroyed. Struggling to survive, many also found themselves in need of legal assistance when filing insurance claims and applying for assistance from the Federal Emergency Management Agency (FEMA).
Brian Detweiler, student services librarian at UB's Charles B. Sears Law Library, traveled to Puerto Rico in January 2018, joining a group of student attorneys from the UB School of Law's Puerto Rico Recovery Assistance Legal Clinic for a unique service learning experience that Detweiler describes as "the highlight of my library career." Detweiler, who is both a librarian and a licensed attorney, assisted the students with legal research, supporting their efforts to help residents secure the resources needed to recover from the hurricane's devastating effects.
"Brian's participation in the Puerto Rico Recovery Assistance Legal Clinic unquestionably contributed to our success," says UB law professor, Kim Diana Connolly, vice dean for experiential learning and director of clinical legal education. "Brian provided not only needed research support, but he also enthusiastically joined several legal and humanitarian brigade teams!"
During his stay in Puerto Rico, Detweiler worked with the legal brigade, helping hurricane survivors file FEMA appeals, researching issues related to the appeals, and contacting the FEMA Help Line on residents' behalf.
As part of the group's humanitarian assistance, he traveled with the students to isolated rural communities in remote parts of the island, delivering solar lamps, cell phone chargers and other critical supplies to people in need.
When the group reconvened in San Juan each evening, Detweiler provided intensive, in-person research assistance to help the students prepare for the next day's outreach endeavors. "I'm proud to be part of this amazing group supporting the work of faculty and students as a librarian," says Detweiler, "and working with them to help our fellow citizens rebuild their homes and their lives."
Chris Hollister
Supporting Students in Singapore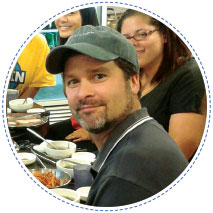 "I've always been an intrepid traveler, and I welcome opportunities to explore new places," says librarian Chris Hollister. When his daughter, Jessica, spent a semester at Korea University in 2012, Hollister reached out to a colleague in Korea, and was invited to give a presentation for students and faculty in the library school program at Seoul's Sookmyung Women's University.
"That experience further opened the door for me in terms of recognizing the opportunities that exist for combining overseas travel with what we do on a daily basis in the UB Libraries," says Hollister, the UB Libraries' liaison to UB's Graduate School of Education and Asian Studies Program. Returning from Korea, he reached out to UB's Office of International Education to ask if there was anything he could do in his capacity as a librarian to assist with their work overseas.
An ideal opportunity presented itself in 2014 when Hollister traveled to the Singapore Institute of Management (SIM), one of UB's partner universities, to conduct a review of library operations on the SIM campus as part of a Middle States accreditation process. At SIM, he spent several days meeting with and interviewing library staff, receiving an overview of the UB programs offered there, and conducting focus groups with students enrolled in the UB/SIM programs.
One of the things Hollister discovered at SIM was the fact that the cost of course textbooks is a huge concern for many of the students. "I was able to see first-hand that commercial publishers of course textbooks really exploit the international market," he recalls. Returning to Singapore in March 2018, Hollister introduced a collaborative partnership with SIM designed to mitigate the costs of course textbooks.
"Since the launch of our programs in Singapore in 2004, our office has appreciated the strong support of the Libraries in ensuring that we've had robust library support for our programs," notes John J. Wood, UB senior associate vice provost for international education. "Recognizing the challenge of US textbook provision in Singapore, Chris Hollister has led the Libraries' effort to identify and provide e-textbooks for our courses at SIM. I applaud this latest instance of the Libraries' continuing efforts to work with the departments and our office to strengthen our
overseas programs."