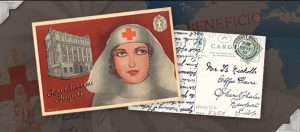 Nurses and Nursing have been frequent subjects of postcards around the world, reflecting popular ideas about social and cultural life at the time.   This 6 panel exhibit from the National Library of Medicine draws from a unique archive of postcards with images of nurses and the nursing produced between 1893 and 2011.  The images are informed by ideas about women, men, and work, and by attitudes toward class, race, and national differences, revealing how nursing was viewed by society.  The banners highlight just a small selection of postcards, however over 500 more are available to view in the exhibition's online digital gallery.
American nurse and collector Michael Zwerdling, RN, donated his extensive collection of 2,588 postcards to the NLM History of Medicine Division. He also published a book entitled Postcards of Nursing: a Worldwide Tribute which can be seen downstairs in our own History of Medicine Collection (WY 17 Z97n 2003).
HSL's History of Medicine also includes other notable materials about the history of Nursing – make an appointment with Curator Linda Lohr 829-5737 for more information.
Also explore the National Library of Medicine's online version of Pictures of Nursing for more background and details.
The exhibit runs from September 24 – November 3, 2018, in the HSL Lobby on the first floor.
This exhibition was developed and produced by the National Library of Medicine, National Institutes of Health.