The Health Sciences Library will hold two Resource Showcases on December 3 and December 10. Each session will feature speakers from each of the highlighted resource companies who will give an in-depth look at how each resource can help faculty with publishing, research, and teaching. Register at the links below, or visit our Workshops page for these and additional offerings.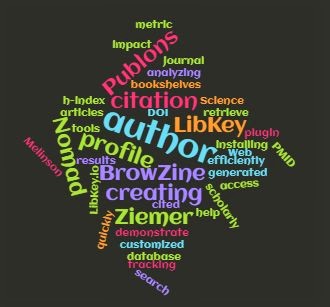 Presenters: Vanessa Melinson, MS, Solutions Specialist at Clarivate Analytics; Maria Ziemer, MLIS, Director of Global Outreach at Third Iron
Description:
Ms. Melinson will talk about Web of Science, a citation tracking database that allows you to see the number of times a paper has been cited and to determine your h-index, an author level metric based on the number of papers you have written and the number of citations those papers have generated. She will discuss the author search and author record, analyzing results from a citation report, and setting up a Publons profile. By creating a Publons profile, you can paint a more complete picture of your scholarly activities and impact.
Ms. Ziemer will provide an overview of BrowZine, LibKey Nomad, and LibKey.io. Ms. Ziemer will demonstrate how these tools can help you more efficiently access journal articles by creating customized bookshelves in BrowZine, installing the LibKey Nomad plugin, and by using the DOI or PMID to quickly retrieve full text.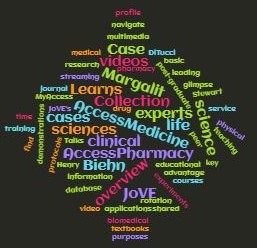 Presenters: Melissa DiTucci, Curriculum Specialist at JoVE; Iris Margalit, PhD, Senior Content Specialist at Henry Stewart Talks; John Biehn, Regional Account Manager at McGraw Hill Medical
Ms. DiTucci will provide an overview of JoVE's research, training, and teaching applications, as well as how JoVE videos can be shared in UB Learns. JoVE is a peer reviewed video journal with demonstrations and detailed text protocols of experiments in the physical and life sciences, as well as a bank of science education videos.
Dr. Margalit will provide an overview of Henry Stewart Talks, a database of streaming lectures in the areas of biomedical and life sciences given by the world's leading experts. Dr. Margalit will address how to navigate the site to find lectures, how to take advantage of their content suggestion service, and how to add content to courses in UB Learns. If time permits, she will talk a little bit about how the experts and topics that appear on the site are selected.
Mr. Biehn will provide a glimpse into the layout and navigation of AccessMedicine, AccessPharmacy, and the Case Files Collection. AccessMedicine and AccessPharmacy include key medical and pharmacy textbooks, drug information, multimedia, cases, and more. The Case Files Collection contains basic science, clinical rotation, and post-graduate cases. Mr. Biehn will show you what is available, why you might want to have a MyAccess profile, and how to use the content for educational or clinical purposes.
Tags:
AccessMedicine
,
AccessPharmacy
,
Blackboard
,
BrowZine
,
Case Files Collection
,
faculty
,
h-index
,
Henry Stewart Talks
,
Impact
,
JoVE
,
LibKey
,
Publons
,
Research
,
Teaching
,
Web of Science