To ensure the safety of the entire campus community as we evolve our response to the COVID-19 pandemic, the University Libraries have launched a pilot project in the Silverman Library.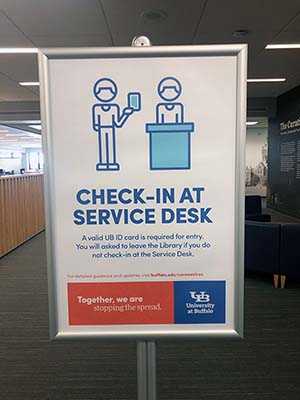 All patrons must check-in at the Silverman Library service desk on the third floor with a valid UB ID card.
Patrons must review and agree to the policies and guidelines in order to remain in the library.
Policies and Guidelines
Show valid UB identification upon request.
Wear a mask properly at ALL times.
A maximum of 2 people are allowed to work closely together.
Groups of 3 or more must always stay at least 6 feet apart in all directions.
Food is not allowed in the library. Edit this entry.
All members of the UB community have a shared responsibility to follow the SUNY-wide health and safety protocols on wearing face coverings, physical distancing, handwashing, health screening and monitoring. For detailed guidance and updates, visit www.buffalo.edu/coronavirus.
Please see the Silverman Library service desk for details on the library check-in procedures.