The Poetics Program and Poetry Collection welcome you to an afternoon with Norma Cole
Friday, March 26
3:30pm – 5:30pm, via Zoom
---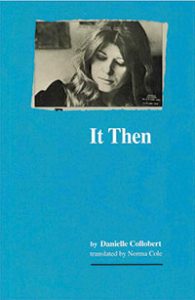 Cole will give a brief talk on and read from her translation of It Then (1976; trans. 1989), the first published American translation of a work by Danielle Collobert that became particularly influential for U.S. experimental writers in the 1990s. This discussion will reflect on the exhilarating historical moment of the appearance of New French Feminisms, An Anthology (1980), which introduced writers such as Hélène Cixous and Luce Irigaray to an American audience, and on Cole's translation process as in conversation with this field of writing.
In turn, Cole will take up the making of her important three-part installation Collective Memory. One piece from the installation, "House of Hope," a hanging sculpture, is currently up in UB's Special Collections. Cole's presentation, with slideshow, will also be joined by live video feed from the Collection showing this sculpture and other items from her own archive. Cole will also read from the poem she wrote during the four months that Collective Memory was up in the California Historical Society in San Francisco.
Norma Cole is a poet, visual artist, translator, filmmaker, and curator.  She is the author of many books of poetry, including FATE NEWS, Win These Posters and Other Unrelated Prizes Inside, and Where Shadows Will: Selected Poems 1988—2008, while a book of her drawings, DRAWINGS, just appeared from Further Other Book Works.  Translations from the French include Danielle Collobert's It Then and Jean Daive's White Decimal.  Cole has received such awards as the Gertrude Stein Award,  the Richardson Award for Non-Fiction Prose, and the Wallace Alexander Gerbode Foundation Award for Poetry.  Her visual art has exhibited at the Miami University Art Museum, [2nd floor projects] in San Francisco, and the Berkeley Art Museum, while her film "By the Turning Bridge" recently showed at Arion Press, SF, and NIAD, in Richmond, CA.