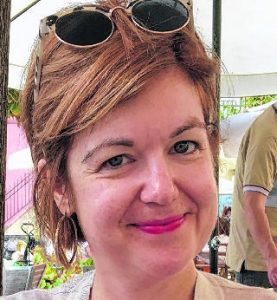 New York State Senator Sean Ryan, chair of the State Senate Libraries Committee, has named Amy Vilz as a recipient of the 2021 New York State Senate Outstanding Librarian Award (posthumous).  The award, announced during National Library Week (April 4-10, 2021), is bestowed upon individual librarians from across New York who go above and beyond to serve their communities. Vilz, who passed away on March 4, 2021 at the age of 47, had served as University Archivist since 2013, working tirelessly to help make the University Libraries a more effective service organization.
Among her many professional accomplishments, Vilz developed a project to digitize the University Archive's vast audiovisual holdings, including speeches by Robert F. Kennedy, Angela Davis, Timothy Leary, and events such as the first moon landing. She also spearheaded a collaborative initiative with the Alumni Association and UB Foundation that resulted in the first endowment for the University Archives and secured the largest gift in the history of the department.  Vilz served as co-editor-in-chief of the open access journal The Reading Room and was a member of the Western New York/Ontario Association of College and Research Libraries.
Described by those who knew her as "remarkable, creative and courageous," Vilz will be remembered as a kind and generous teacher, mentor, colleague and friend.