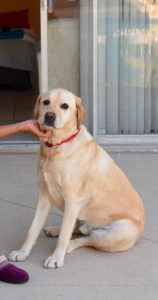 Therapy dog visits are resuming in Abbott Library!   As before the pandemic, a therapy dog team will be visiting once every month to help students relax and destress.  Visit us downstairs at the end of the hallway outside room B7.
Signs will be posted with a photo of the therapy dog who will be visiting and the date.
Tuesday, September 20th, from 11:00 am – 1:00 pm – therapy dog Sam will be waiting!