Library Hours, Resources and Services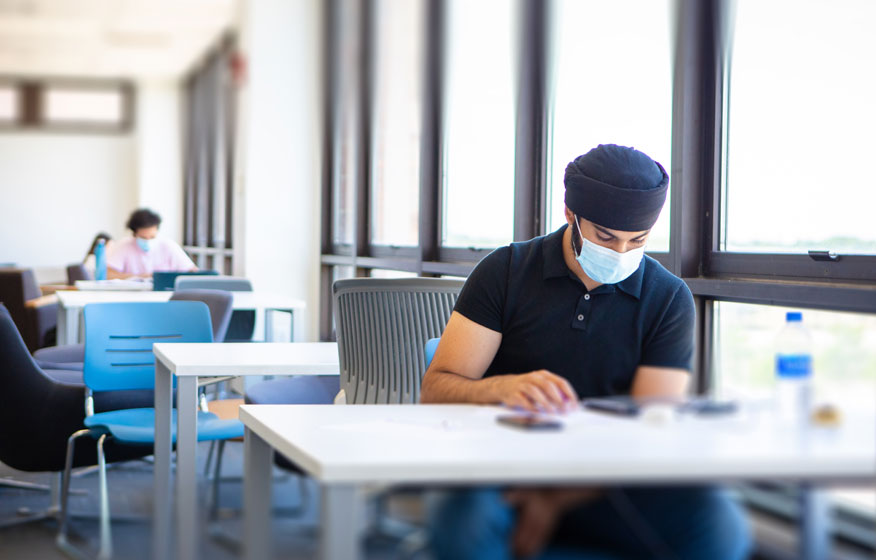 UB is committed to protecting the health and safety of the UB community while remaining focused on our academic, research and community service mission. Ensuring the safety of the entire campus community is paramount as we evolve our response to the COVID-19 pandemic and implement our return to campus plans.
UB Libraries and COVID-19: A Message from the Vice Provost for University Libraries.
The health and safety of the entire UB community as our first priority. We will continue providing online library services. The Silverman, Lockwood and Abbott Libraries are open to current UB faculty, staff, and students only. See hours for more information.
Last Update: March 3, 2021
---
Swipe Card Access – Lockwood and Abbott Libraries
To support the continued health and safety of patrons and staff, the University Libraries are piloting a card swipe system at the entrances of Lockwood and Abbott Libraries at the start of the Spring 2021 semester.
The new system will require everyone to have their UB Card with them in order to enter the library.
---
Silverman Library Check-in Procedures
When visiting Silverman Library, everyone must check in at the 3rd floor Library Service Desk. This is part of a pilot project designed to ensure that mask compliance and social distancing guidelines are followed by all individuals using the library.
---
Library Hours
Our libraries are open to current UB faculty, staff and students ONLY and will not be open to the public during this time.
The library hours for the spring 2021 semester are available.
---
Pick-up Lockers
During the Spring semester, pick-up lockers will be installed near the second floor entrance of Lockwood Library with a second location planned for the south campus.
---
Borrowing Library Materials
You may borrow items using the UB Libraries Self Checkout app or at a Self Checkout Kiosks.
There are self-service areas for items on hold on the first floor of Abbott Library and the second floor of Lockwood Library.
Throughout the Spring 2021 semester, patrons will not be able to pick up borrowed items in Silverman Library.
---
Delivery of Library Materials
UB Libraries resumed delivery of print materials to all patrons. You may pick up requested materials in Lockwood Library or Abbott Library, or have items delivered to your office or home address.
Scanning and delivering print journal articles to UB faculty, staff and students through our Delivery + service have resumed.
Home, office and residence hall delivery options are now available to current UB students, faculty and staff.
---
Returning Library Materials
Returns will be accepted at library book drop boxes located:

Outside of Lockwood Library facing the Alfiero Center on Mary Talbert Way.
Outside of Lockwood Library main entrance on the 2nd floor. You will not have to enter the library.
Outside of Abbott Library facing the Diefendorf Loop.
Outside of the Law Library main entrance on the 2nd floor of O'Brian Hall.

Library items may also be returned to any SUNY library statewide.
Please note: All returned library materials will be quarantined for at least 96 hours. Fines and fees will not accrue during the quarantine period. You will receive an email notification when items have been removed from your library account.
Silverman Library will continue to accept equipment returns at this location. For other returns, please refer to the guidelines above.
---
Online Services
---
Other Important Changes
Face coverings must be worn at all times on UB campuses, including the Libraries.
Food and beverages are not permitted in the Libraries.
Furniture has been rearranged to promote socially distant studying.
All library service desks are fitted with a protective plexiglass guard.
Library group study rooms are currently unavailable during the Spring 2021 semester.
Temporary workspaces for students needing a place between classes are available throughout campus. Visit Touchdown Space Locations for more information.
Hand sanitizer are available in Abbott, Lockwood and Silverman Libraries.
UB Facilities will conduct regular cleaning and disinfection of public spaces.
Disposable disinfecting wipes are available.
Video Recording Studios in Silverman Library may be reserved.
Touchless print kiosks are located throughout the Libraries.
Please continue to follow UB Health Guidelines throughout the academic year.