Robert Graves in Buffalo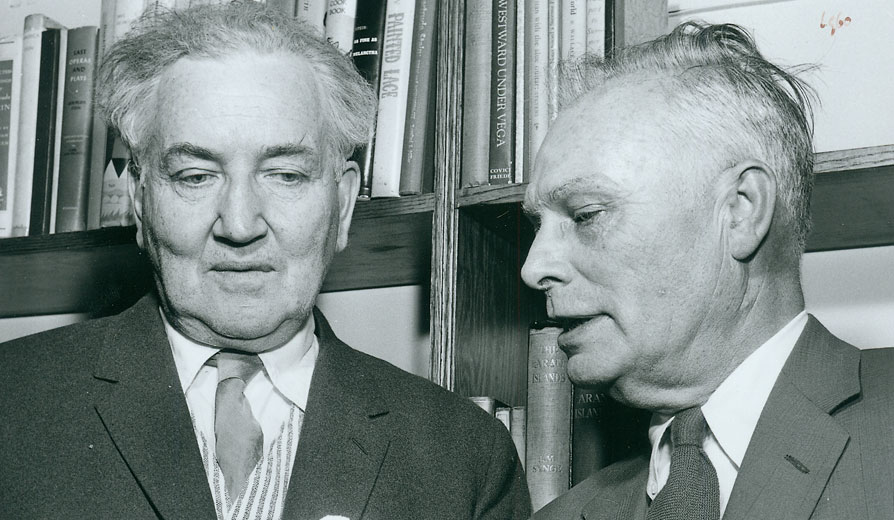 Thanks to a donation by Mildred Lockwood Lacey made in memory of Thomas B. Lockwood, in 1960 the Poetry Collection acquired its large collection of manuscripts and papers by Robert Graves. To open the collection and to celebrate the 25th anniversary of the dedication of Lockwood Memorial Library, the Poetry Collection organized an inaugural exhibition of its Robert Graves Collection and invited the poet himself to deliver the opening remarks on May 15, 1960.
For the event, which took place in the library's main reading room and was broadcast on the Buffalo Evening News radio station, University Chancellor Clifford C. Furnas gave the initial introduction, followed by Charles D. Abbott, the founder of the Poetry Collection and the first Director of the University Libraries. Graves then delivered a short speech about his manuscripts, and acknowledged Buffalo would be the "grave of Graves." Oscar A. Silverman, then the current Director of the University Libraries, concluded the occasion by bestowing upon Graves the title of honorary fellow of the Lockwood Memorial Library.
According to UB alum Riva Berleant:
Graves spoke in the evening in Capen Hall, the medical school building on the South Campus that is now called Farber Hall. As an undergraduate at UB in the 1950s I had scoured Buffalo's used book shops for his books. Some of these are now in the Poetry Collection's Robert Graves Collection, still marked 35 or 50 cents. Graves was quiet in manner and sardonic in style. He held the audience without any efforts to win or charm. Indeed he was a little patronizing. He looked just like his pictures, even the youthful image in Good-bye to All That.

When the talk was finished people stood in a long line, waiting for Graves to sign their just-bought copies of his just-published Food for Centaurs. I came with my own copy of Collected Poems 1955 and waited, a little embarrassed at not buying the new book, at the end of the line. But Robert Graves didn't mind. He was deeply pleased to find a reader of his poems, and talked to us a bit. He asked what we studied. My husband, Arnold, recalls the privilege of Graves' dismissal: "Philosophy? Totally incompatible with poetry." My answer pleased him more: English literature, and folklore in graduate school. He signed my Collected Poems, and anyone who wants to can now see that signed copy in the Poetry Collection.
The following night, Graves gave a poetry reading on campus. In the years since, a Robert Graves Day has often been celebrated on his birthday (July 24), and there have been several subsequent exhibitions of Graves' books and manuscripts in the Poetry Collection.