Basketball History Review
The essay "Basketball History Review" seen below, written by Jimmy Ailinger, first appeared in the April 28, 1927 issue of the Alumni News of the University of Buffalo. It is also available in the University at Buffalo Alumni Publications digital collection.
---
By Jimmy Ailinger
Basketball at the University of Buffalo since it made its first appearance as an organized sport has been the oasis on U. B.'s athletic desert. Prior to 1915 there had been no official basketball team representing the University as a whole. Attempts had been made to develop teams in various departments but this proved an idle undertaking because of lack of proper coaching and organization.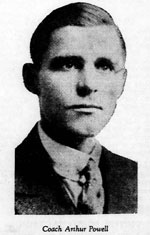 In 1915 ""the powers that be'" decided that basketball should be added to our athletic program. U. B.'s fame was assured when Arthur Powell was signed as coach. Since his advent Powell has been responsible for the many successful seasons and U. B.'s enviable position among the leaders of the intercollegiate basketball world.
Despite the obstacles that have been encountered we are classed with the first ten universities of the east. Not having a gymnasium, our team was forced to practice on any available court. The fact that we had no home court proved a great disadvantage. Another handicap was the inability to arrange a convenient time to practice due to the staggered schedules of the various departments. At yet the condition has not been remedied, practice having been held during the past season from six to eight o'clock in the evening.
Lack of material has always been a drawback. It is not uncommon for our visiting opponents to have more men on the squad than appear at our initial practice. For an example, in the year 1922-1923, of the seven men on the squad five were unable to make their high school team.
However, this team won the majority of games. defeating Georgetown, Rochester and Niagara. Compare this, if you will, with some our opponents having twenty-five to one hundred men report for initial practice. One school in particular had more high school captains report than the number of men reporting to Powell.
The first year of organization a small group practiced at the Turn Verein. This team of 1915-l916, which was captained by Eddie Burns, now Dr. Burns of Glenn falls, won seven of the eleven games played. This outfit was composed of Red Lyons, Louis Siegel, commonly called Little Louie, as forwards; Burns, center; Manchester and Harry Scott as forwards. A post seasons series was arranged with Canisius and we won both games played; first score 27-25; second 40-23.
The followining year the team, made up of Burns, Ungerer, Roberts, Captain Scott and Siegel, won 6 and lost 8 games. but had difficult schedule, losing to Yale, Allegheny, Pittsburgh, W. and J., Aggies, Carnegie Tech and Detroit.
The wartime team of '17-'18 held practice at Technical High School. This team, despite its difficult schedule, won 6 and lost only 2 games. Yale, Colgate and Rochester were among the teams beaten, while our club dropped close games to Syracuse and Allegheny. The five for the year Cohen and Ungerer, forwards; Roberts, center; Siegel and Leicht, guards.
The same combination played the following year, Goldensen replacing Siegel at guard, the five men being students of the dental school. The summary for the year was 8 victories and 5 defets. Allie Roberts, center, was captain.
The season of '19-'20 George Long and "Big Louie" Siegel were added to Cohen, Leicht and Goldenson combination. This was perhaps the best season as far as victories are concerned, Buffalo winning 9 games and losing only 1 game by 2 points, that to Cornell in a terrific struggle. The team defeated Colgate twice, Toronto, Detroit and Geneva. Geneva's club, having beaten Princeton, Penn and Pittsburgh, lost to U.B. by the over whelming score of 52-12.
The '20-'21 season found a very ambitious schedule for a professional school — Syracuse, Yale, Cornell, Allegheny, Penn State, Geneva, Center, Hobart, Rochester. Don Cohen captained the team. Buffalo won 12 and lost 6, which was a marvelous record considering the portentious schedule. This year marked the passing of a fine basketball team, Powell losing all but SiegeL
Captain Louie Siegel's outfit of '21-'22 was the poorest since Art took charge. The team was seriously handicapped by the delay in construction of our new gymnasium and practice did not start until late in December. Despite a poor start, Art whipped a green bunch into shape to win 5 games of the 12 played.
The schedule for '22-'21 was made heavier because it was expected that the last season's team would return intact, but such was not the case and Art was compelled to labor over green recruits. Making up a new combination of a center and two forwards out of inexperienced men to combat teama as Yale, Georgetown, Rochester, R. P. I. and Niagara is not an easy task. However, General Powell drove his charges to battle on nerve alone. After the smoke of the 13 conflicts cleared the team showed 7 victories and 6 defeats. The win of Georgetown was the outstanding feature of the year. The letter men were: Dr. Dan O"Neil, Dr. Howie Ragen, Sam Vanini, Dr. Henry Wiser, Sam Siegel, Lou Farris, Bob Cantor and Dr. Jim Ailinger, captain.
Victories over Cornell and Lafayette were the bright spots of the '23-"24 season. This was a rare year for Art was working on a veteran team. Sam Vanini captained the outfit which won a majority of games.
The season of '24-'25 introduced another difficult schedule. Buffalo lost to Cornell by 2 points in a hard battle, Colgate, R. P. I., Davis Elkins and Rochester. They completely upset the "dope," however, by defeating the champion, St. Lawrence, by a 33-14 score. As was the usual case, Captain Ferris was the only veteran, the new men being Brint, Brizdle, Berlove and Meyer.
We all recall Art's crack team of '25-'26. The victories over Princeton, Cornell, Colgate, R. P. I. and Niagara were the result of a great combination. Even the two ddeats to the "Syracuse Wonder Team"' were a credit to our team, as we afforded them more opposition than they encountered all year. They were heart-breaking affairs, both games being extremely close. Buffalo's victories were snuffed out in the last minute of play in each case. Harrington, Brine and Captain Ferris, forwards; Brizdle, center; Berlove and Manguso, guards.
The past season's record stands out admirably, the team winning 11 and losing 4 games. At the beginning of the '26-'27 season things looked dark, with only Harrington and Captain Bridle returning from last year. But this was nothing new to Art, who has become hardened after eleven years of similar experiences. Every rooter at the Penn State game experienced a "thrill of a lifetime." A three extra period struggle of hair raising type! If you missed it, well—we're sorry. Yes! and we beat Rochester for the first time since '23 in a merry battle. Bobby Harrington, Little Hy Bass, Captain Bridle, Bob Potter, Gus Stoesser and John Gabby played real heads-up basketball all year.
The foregoing records are a tremedouscredit to our University. It shows conclusively that year after year Art Powell has had to overcome unbelievable obstacles. He is responsible for placing U. B. among the leaders in basketball. Are we as alumni assisting him? Are we encouraging athletes to come to U. B.? Do you think you can help? Will you?