Dr. Burton T. Simpson, M.D.
by Scott Hollander
University at Buffalo Libraries
The essay below is based off the obituary for Dr. Burton T. Simpson that appeared in the March 6, 1946 issue of the Buffalo Evening News.
---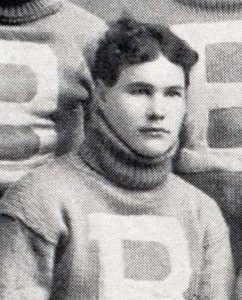 Born in Bellevue, NY on July 30, 1873, Burton T. Simpson went to school in Watertown, where he played on an undefeated high school football team. Coming to Buffalo, NY to enter the University at Buffalo School of Medicine in 1899, he played left tackle on the great U.B. football teams of 1899, 1900 and 1901 when Buffalo defeated such formidable opposition as Cornell, Colgate and Syracuse and lost only two games in three seasons.
1901 Pan-American Exposition
After completing his sophomore year in the UB Medical School, Dr. Simpson was engaged for the summer as student intern at the 1901 Pan-American Exposition held in Buffalo.  He was in the ambulance which picked up President McKinley after the shooting on that fateful day on September 6, 1901 and gave the President "a shot" with a hypodermic needle.
Dr. Simpson recalled that the president remained in good spirits even after he was removed to the exposition hospital.  "We had a football team at the Exposition and I played on it," the doctor said. "The president, as he lay on the surgical table, asked me about the team. He was calm and unconcerned over his wounds."
Helped Operate on President McKinley
During the surgery that followed, Dr. Simpson handled the instrument tray.  He kept as mementoes the hypodermic be used on the president and the hemostat employed in the operation.  He and Dr. Bert J. Bixby, also a student intern at the exposition, each received $100 for their part in the operation.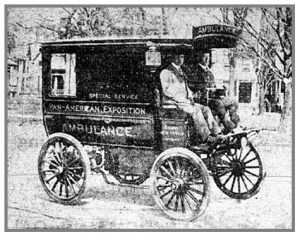 Cancer Research
Graduated from the U.B. Medical School in 1903, Dr. Simpson entered private practice for about five years but almost immediately demonstrated his interest in research on cancer.  In 1910 he became pathologist at the State Institute and during World War I was designated acting director. He was appointed full director in 1924 of the Roswell Park Institute.
Bearer of an international reputation in the field of cancer research and treatment, he served as a director of the American Society for the Control of Cancer, president of the American Society for Cancer Research, director of the Cancer Research Division of the State Health Department and fellow of the Royal Cancer Society of London. He read papers on cancer research to international medical congresses in London, Stockholm and Zurich. He passed away on March 5, 1946.