Hockey begins tomorrow night
The article below first appeared in the November 23, 1970 issue of the UB Spectrum.
---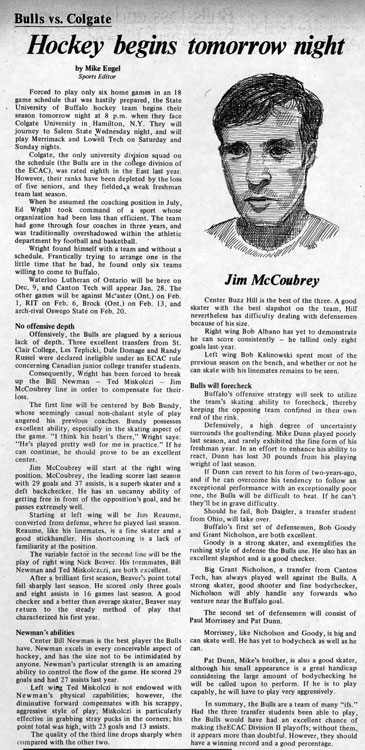 by Mike Engel
Sports Editor
Forced to play only six home games in an 18 game schedule that was hastily prepared, the State University of Buffalo hockey team begins their season tomorrow night at 8 p.m. when they face Colgate University in Hamilton, N.Y. They will journey to Salem State Wednesday night, and will play Merrimack and Lowell Tech on Saturday and Sunday nights.
Colgate, the only university division squad on the schedule (the Bulls are in the college division of the ECAC), was rated eighth in the East last year. However, their ranks have been depleted by the loss of five seniors, and they fielded a weak freshman team last season.
When he assumed the coaching-position in July, Ed Wright took command of a sport whose organization had been less than efficient. The team had gone through four coaches in three years, and was traditionally overshadowed within the athletic department by football and basketball.
Wright found himself with a team and without a schedule. Frantically trying to arrange one in the little time that he had, he found only six teams willing to come to Buffalo. Waterloo Lutheran of Ontario. will be here on Dec. 9, and Canton Tech will appear Jan. 28. The· other games will be against McMaster (Ont.) on Feb. 1 , RIT on Feb. 6, Brock (Ont.) on Feb. 13, and arch-rival Oswego State on Feb. 20.
No offensive depth
Offensively, the Bulls are plagued by a serious lack of depth. Three excellent transfers from St. Clair College, Les Teplicki, Dale Domage and Randy Russel were declared ineligible under an ECAC rule concerning Canadian junior college transfer students.
Consequently, Wright has been forced to break up the Bill Newman – Ted Miskolczi – Jim McCoubrey line in order to compensate for their loss.
The first line will be centered by Bob Bundy, whose seemingly casual nonchalant style of play angered his previous coaches. Bundy possesses excellent ability, especially in the skating aspect of the game. "I think his heart's there," Wright says: "He's played pretty well for me in practice." If he can continue, he should. prove to be an excellent center.
Jim McCoubrey will start at the right wing position. McCoubrey, the leading scorer last season with 29 goals and 37 assists, is a superb skater and a deft backchecker. He has an uncanny ability of getting free in front of the opposition's goal , and he passes extremely well. Starting at left wing will be Jim Reaume, converted from defense, where he played last season. Reaume, like his linemates, is a fine skater and a good stickhandler. His shortcoming is a lack of familiarity at the position.
The variable factor in the second line will be the play of right wing Nick Beaver. His teem mates, Bill Newman and Ted Miskolczczi, are both excellent.
After a brilliant first season, Beaver's point total fell sharply last season. He scored only three goals and eight assists in 16 games last season. A good checker and a better than average skater, Beaver may return to the steady method of play that characterized his first year.
Newman's abilities
Center Bill Newman is the best player the Bulls have. Newman excels in every conceivable aspect of hockey, and has the size not to be intimidated by anyone. Newman's particular strength is an amazing ability to control the flow of the game. He scored 29 goals and had 27 assists last year.
Left wing Ted Miskolczi is not endowed with Newman's physical capabilities; however, the diminutive forward compensates with his scrappy, aggressive style of play; Miskolczi is particularly effective in grabbing stray pucks in the corners; his point total was high, with 23 goals and 13 assists.
The quality of the third line drops sharply when compared with the other two.
Center Buzz Hill is the best of the three, A good skater with the best slapshot on the team, Hill nevertheless has difficulty dealing with defensemen because of his size.
Right wing Bob Albane has yet to demonstrate he can score consistently – he tallied only eight goals last-year.
Left wing Bob Kalinowski spent most of the previous season on the bench, and whether or not he can skate with his linemates remains to be seen.
Bulls will forecheck
Buffalo's offensive strategy will seek to utilize the team's skating ability to forecheck, thereby keeping the opposing team confined in their own end of the rink.
Defensively, a high degree of uncertainty surrounds the goaltending. Mike Dunn played poorly last season, and rarely exhibited the fine form of his freshman year. In an effort to enhance his ability to react, Dunn has lost 30 pounds from his playing weight of last season.
If Dunn can revert to his form of two-years-ago, and if he can overcome his tendency to follow an exceptional performance with an exceptionally poor one, the Bulls will be difficult to beat. If he can't they'll be in grave difficulty.
Should he fail, Bob Daigler, a transfer student from Ohio, will take over.
Buffalo's first set of defensemen, Bob Goody and Grant Nicholson, are both excellent. Goody is a strong skater, and exemplifies the rushing style of defense the Bulls use. He also has an excellent slapshot and is a good checker.
Big Grant Nicholson, a transfer from Canton Tech, has always played well against the Bulls. A strong skater, good shooter and fine bodychecker, Nicholson will ably handle any forwards who venture near the Buffalo goal.
The second set of defensemen will consist of Paul Morrissey and Pat Dunn.
Morrissey, like Nicholson and Goody, is big and can skate well. He has yet to bodycheck as well as he can.
Pat Dunn, Mike's brother, is also a good skater, although his small appearance is a great handicap considering the large amount of bodychecking he will be called upon to perform. If he is to play capably, he will have to play very aggressively .
In summary, the Bulls are a team of many "ifs." Had the three transfer students been able to play, the Bulls would have had an excellent chance of making the ECAC Division II playoffs; without them, it appears more than doubtful. However, they should have a winning record and a good percentage.
---
— UB Spectrum, November 23, 1970