1934-1935 Buffalo Bulls Basketball
by Scott Hollander
University at Buffalo Libraries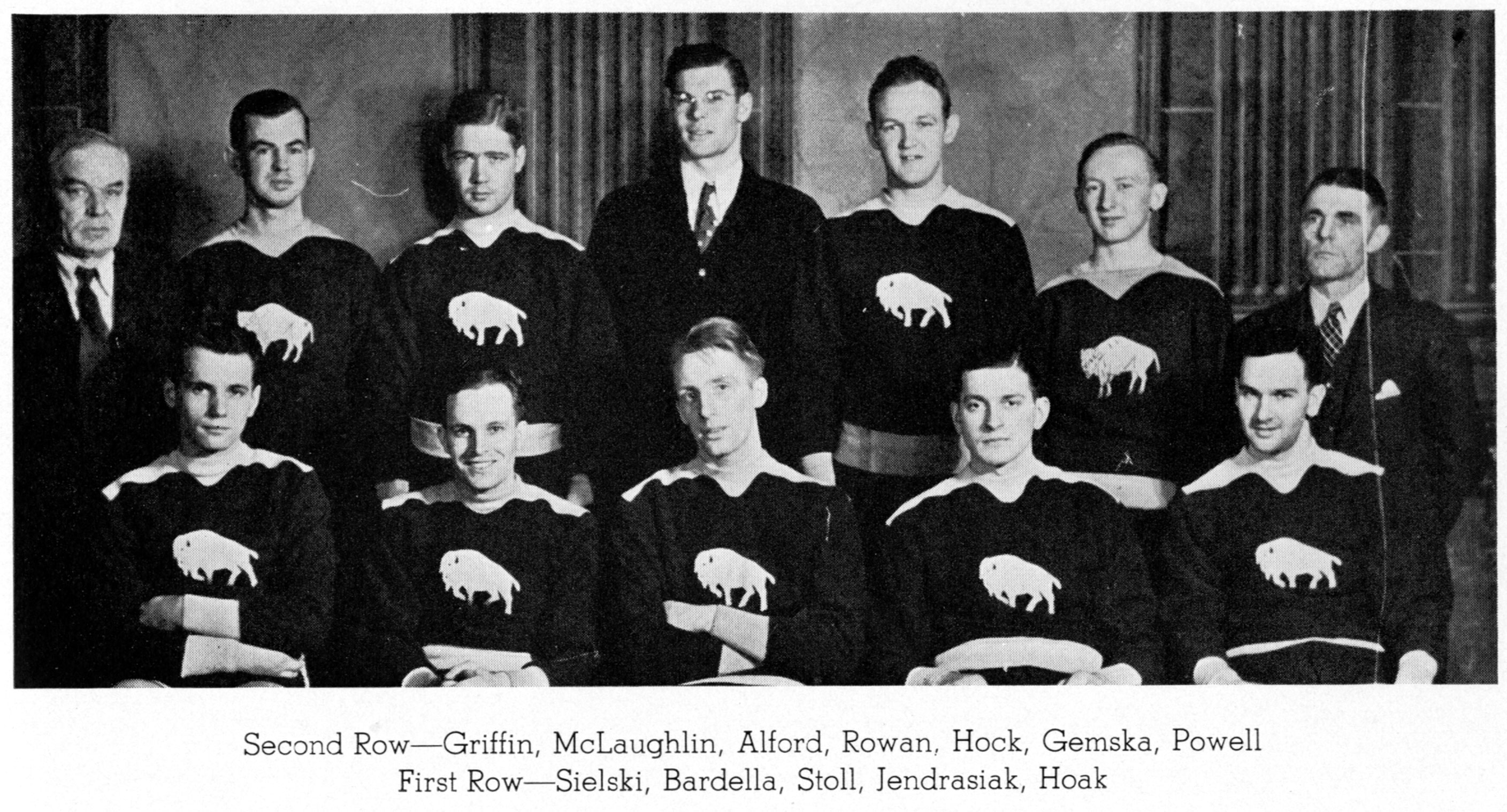 A Difficult Season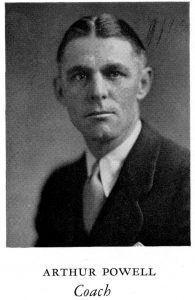 Chalking up but three victories as against nine defeats, Art Powell's twentieth edition of Bulldog hoopsters complied the saddest records of any of his previous squad.
Hamp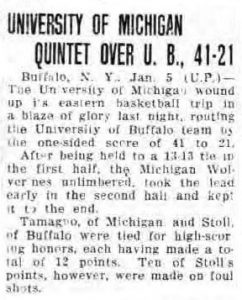 ered by injuries, ineligibility and the lack of experienced material, the team failed to get started in its short twelve game schedule. "Marsh" Stoll, ace center for the past two seasons and spearhead of the Bulldog attack, never did show his best, being bothered by illness and injuries the entire season.
Dearth of capable reserves was the most important factor in the team's poor showing.  In all but a few of their games, Buffalo assumed a commanding lead early in the fray only to have their opponents rush in reserve strength late in the battle and pass the fast tiring Bulldogs off their feet.
An injury to Warren Rosing, one of the most promising athletes ever to have matriculated at U.B. contributed greatly to the squad's downfall.
The brightest spot in the season was a 32-31 win over a Cornell quintet that latter defeated some of the leading teams in the Eastern Intercollegiate League.  This early season victory, the district's biggest upset, aroused hoped of a successful year, but losses to Hobart and Alfred, two weak aggregations, dispelled all chances of the Bulldogs finishing up among the leaders.
Stoll, "Casey" Jendresiak, Roy Hock and Walter Sielski, finished their cage careers at the University and will be lost to the 1935-36 squad.
—1935 Iris Yearbook
---
1934-1935 Buffalo Basketball Season
| Date | Home Team | Score | Visiting Team | W-L-T | Location |
| --- | --- | --- | --- | --- | --- |
| 12/15/1934 | Buffalo | 38 – 44 | Toronto | L | Buffalo, NY |
| 1/4/1935 | Buffalo | 21 – 41 | Michigan | L | Buffalo, NY |
| 1/5/1935 | Buffalo | 32 – 31 | Cornell | W | Buffalo, NY |
| 1/11/1935 | Clarkson | 47 – 31 | Buffalo | L | Potsdam, NY |
| 1/12/1935 | St. Lawrence | 28 – 20 | Buffalo | L | Canton, NY |
| 1/19/1935 | Alfred | 22 – 21 | Buffalo | L | Alfred, NY |
| 2/6/1935 | Buffalo | 30 – 28 | Alfred | W | Buffalo, NY |
| 2/9/1935 | Hobart | 29 – 27 | Buffalo | L | Geneva, NY |
| 2/14/1935 | Buffalo | 20 – 32 | Clarkson | L | Buffalo, NY |
| 2/16/1935 | Buffalo | 37 – 51 | St. Lawrence | L | Buffalo, NY |
| 2/22/1935 | Buffalo | 26 – 33 | Colgate | L | Buffalo, NY |
| 3/2/1935 | Buffalo | 43 – 26 | Hobart | W | Buffalo, NY |
FINAL RECORD: 3-9
Coach: Art Powell
Home: Elmwood Music Hall