1982 Buffalo Bulls Mens Soccer
by Scott Hollander
University at Buffalo Libraries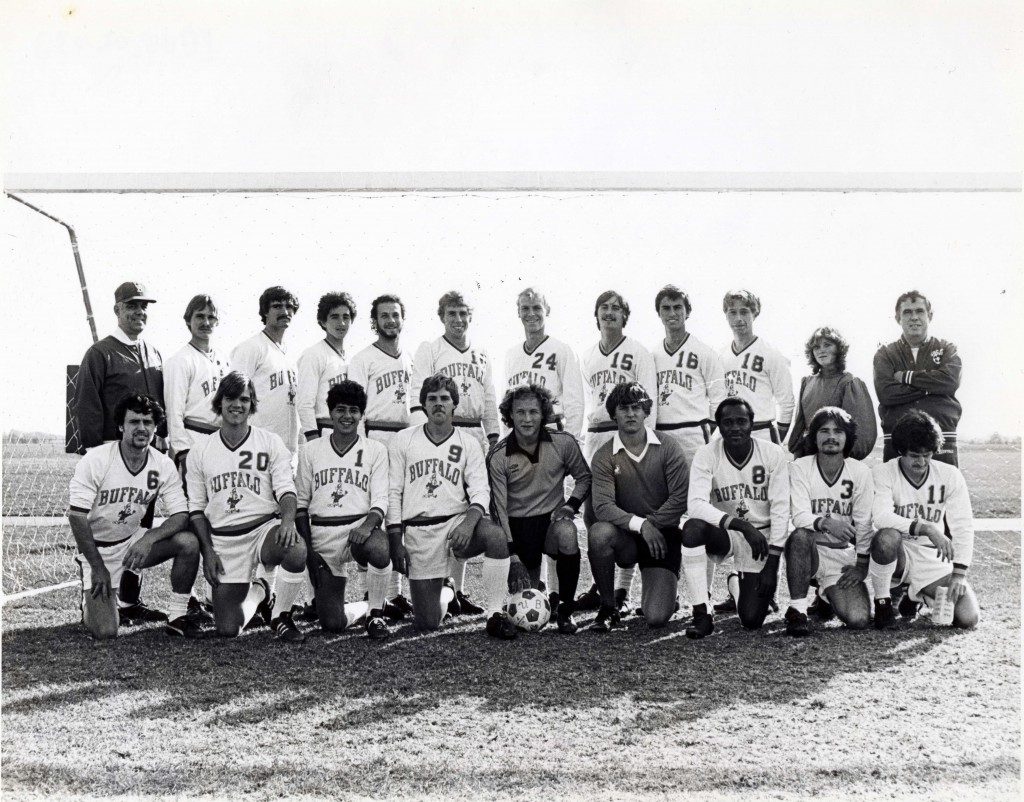 So close, yet so far.
The UB Mens Soccer team had a successful season for Head Coach Sal Esposito, but fell just short of its goal of a second straight State University of New York Athletic Championship. Finishing at 8-3-2, the Bulls lost out to Buffalo State by just one game in the conference, after winning the division a year ago with a thrilling, must-game victory over Brockport State. Although disappointment was high, so was team pride and enthusiasm-even without the SUNYAC Championship or a bid to the National Collegiate Athletic Association tournament.
The team was not without its stars. Defender Aldo Ballarin and goalie Marty Pavone were not only co-captains and inspirational leaders, but top-notch performers as well. Pavone set a career shut-out record, by blanking 15 opponents during a two year varsity career. Ballarin was selected to the SUNY all-star squad for his fine all-around play.
–1983 Buffalonian Yearbook
---
1982 Buffalo Bulls Soccer Season
| | | | |
| --- | --- | --- | --- |
| 9/11/1982 | at Daemen | 5 – 0 | W |
| 9/15/1982 | at Geneseo* | 2 – 0 | W |
| 9/20/1982 | Houghton | 0 – 2 | L |
| 9/29/1982 | Buffalo State* | 0 – 2 | L |
| 10/2/1982 | Canisius College | 6 – 0 | W |
| 10/6/1982 | at Niagara | 2 – 0 | W |
| 10/9/1982 | LeMoyne | 8 – 0 | W |
| 10/13/1982 | at Fredonia* | 2 – 2 | T |
| 10/16/1982 | at St. Bonaventure | 2 – 1 | W |
| 10/19/1982 | at Syracuse | 0 – 5 | L |
| 10/23/1982 | Elmira | 5 – 1 | W |
| 10/27/1982 | at Oswego* | 2 – 2 | T |
| 10/29/1982 | Brockport* | 2 – 0 | W |
FINAL RECORD: 8-3-2
Home Court: Rotary Field
Coach: Sal Esposito
*SUNYAC West games