Men's Swimming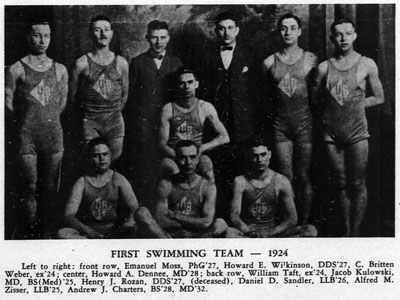 Buffalo's very first swimming team formed during the 1923-1924 academic year. It held its first intercollegiate home swim meet against Allegheny College on February 8, 1924 at the Buffalo Y.M.C.A pool and against Syracuse University the following week in Syracuse.
See "Resume of Swimming Activities Shows New Sport on Firm Basis," University of Buffalo Bee Newspaper – March 14, 1924.
Swimming at Buffalo lasted just that one season until 1948-1949 with the opening of the pool at the Clark Memorial Gymnasium. At the official opening ceremony, members of the 1924 team were invited to return to campus as honored guests.
See "New Swimming Pool Completed," University of Buffalo Alumni Publication – February 1, 1949.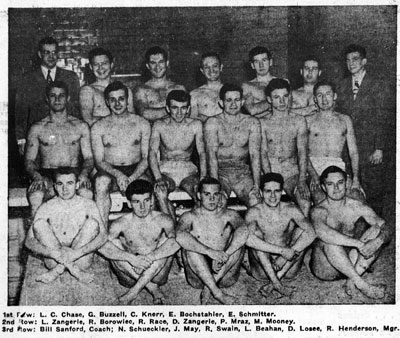 Bill Sanford, who graduated from the University of Buffalo in 1948, became the University's first swimming coach the same year. He retired in 1980 and died in 1991.
For more information, see the William H. Sanford Papers, 1948-1987 collection in the University Archives.