Borrowing
Your UB Card serves as your library card. Current UB students, faculty and staff may use their cards to check out books and other materials at any campus library.
Who May Borrow
Students, Faculty, and Staff
Current University at Buffalo faculty, staff and students may use their UB Card to borrow materials.
Your UB Card is your Library Card. Students, faculty, and staff must have a current UB Card to receive borrowing services from any UB library. Your Library Number is located at the bottom of your UB Card. It is 14 digits long and starts with 29072.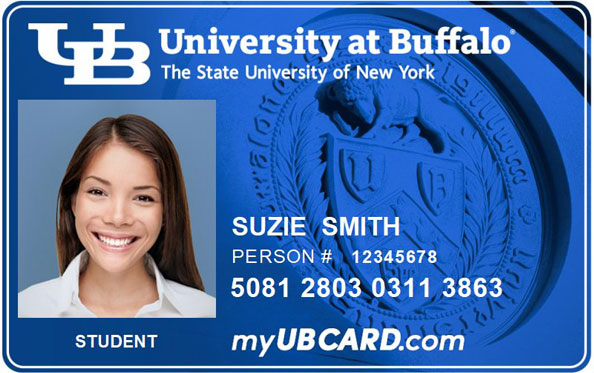 ---
Proxy Borrowers
UB faculty and staff members may appoint proxy agents to borrow materials from the University Libraries on their behalf. The proxy borrower's card is issued only upon written authorization of the faculty member. Although the proxy carries the card, the sponsoring faculty member is wholly responsible for all materials borrowed against the card. Requests for proxy cards can be made at any University Libraries' Circulation Desk.
Who is eligible to appoint a proxy?
---
How do I appoint a proxy?
The following information must be supplied in writing, on departmental letterhead, and presented at any University Libraries' Circulation Desk.
A sample letter (MS-Word) is available for your use.
Sponsor's name
Sponsor's UB Library Card barcode number (begins with 29072; found on lower right corner)
Sponsor's department
Sponsor's campus or home address
Sponsor's e-mail address
Sponsor's telephone number
Proxy's name
Proxy's length of appointment
---
Who receives the proxy card?
The proxy card will be issued to the designated proxy and must be signed by the proxy. The proxy must show photo ID when using the card. Proxy cards will be sent to the sponsor for distribution to his/her proxy borrowers.
---
Can a sponsor see what a proxy has checked out?
Faculty and staff members (sponsors) may check the status of materials borrowed on proxy cards by accessing his/her library account using My Account. Materials checked out by a proxy will be listed under loans.
---
Does the proxy card work for materials requested through Interlibrary Loan?
No, the proxy card does not work for Interlibrary Loans. Please contact the ILL Office at 716 645-2812 if you need assistance with using a proxy to request materials through ILL.
---
Visitor Borrowing privileges
A Courtesy Borrower / Library Research Station Access Card (blue card) is needed for eligible Visitor access and borrowing privileges. More information please see Visitor Information