Equipment Loans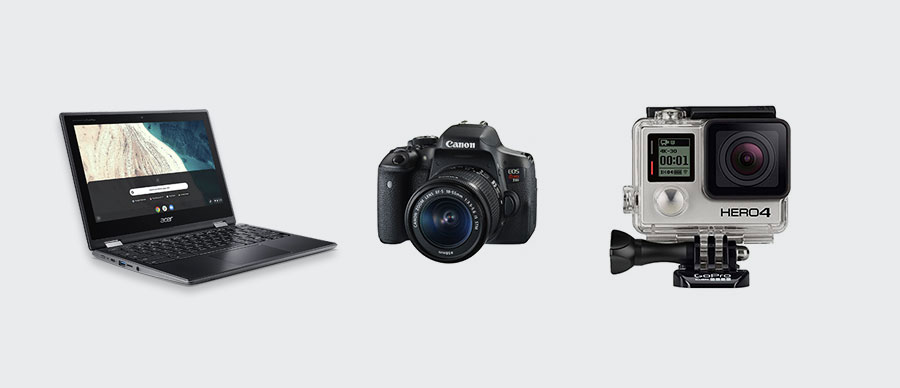 A wide variety of media and technology equipment is available for loan to current UB students, faculty and staff, including:
---
Short Term Loan Equipment
The following items can be checked out from the Silverman Library 3rd floor service desk without a reservation. Short term loan equipment has a 4-hour limit and must be returned before 11:30pm or 30 minutes before closing.
Available Items
HDMI Cables
Headphones
Lightning Cables
Micro USB Cables
Mini DisplayPort Adapters
Portable DVD Players/Writers
TI-30XIIS Scientific Calculator
TI-84 Plus CE Graphing Calculator
USB-C Cables
USB-C to HDMI Adapter
---
Long term loan laptops available for the whole semester.
---
UB Libraries Equipment Loans Policies
The University Libraries are committed to supporting access to all the equipment available, but we only have a limited amount of equipment to loan. Please be respectful of others by following the policies below.
The default equipment loan period is 7 days.

One renewal period is allowed if there are no other reservations for the equipment by the due date.
You CANNOT renew from the booking system, it will not register on your library account, please email media-services@buffalo.edu for renewal.

You may only check out one camcorder at a time.
You may only check out one DSLR/Mirrorless camera at a time.
You may only check out one laptop at a time.
Reservations must be made at least 1 business day (before 5:00pm) in advance.
Please contact us if you do not receive a confirmation email after completing your reservation.
Your UB Card is required for checking out equipment, please have it with you at the pickup appointment.
Pick up equipment at the Silverman Library circulation desk between opening hour and 30 minutes before closing on the day of your appointment. ***Please check Silverman Library Hours***
Equipment must be returned at the Silverman Library.
At your pick up appointment, staff will go over the inventory check list with you. This can take up to 15 minutes, please plan accordingly.

Please work with staff to go over all the parts. We will not accept a return if any part of the equipment is missing.

Reservations will be cancelled if equipment is not picked up on the day of the appointment.
Borrowing privileges may be suspended for late returns or missed appointments.
Late fee for non-return of equipment is $10 a day. If an item is overdue for more than 3 days, it will be declared Lost and a replacement fee + processing fee ($25) will be charged to your account.
You are responsible for the equipment in your procession, replacement fee + processing fee will be charged to your account for missing pieces, broken items, or lost items.
The University Libraries have the right to limit the number of reservations you can make on an item in order to provide access to all patrons. If Library staff notice an item has been reserved multiple times consecutively by the same user, this may affect future equipment borrowing privileges.
Your borrowing an item is contingent on the item being returned on time by the prior user. You may call to verify the equipment will be ready for pick-up.
You are responsible for deleting data on memory devices. Equipment with memory capabilities will be erased within 24 hours of return.
Fines & Fees

Late fees are assessed at $10 per day.
The base fine for Lost Item is cost of the item at time of purchase plus a $25 processing fee.

WE WANT YOUR FEEDBACK! Please contact us with any questions, suggestions or concerns - media-services@buffalo.edu | 716-829-5745
Fines
Lost/Damaged Items
---
Reserve Equipment