Ulysses 100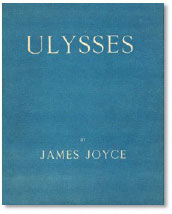 2022 marks the 100th anniversary of the publication of James Joyce's novel Ulysses, widely acknowledged as one of if not the most important publications of the twentieth century. The UB James Joyce Collection – as the world's largest and most comprehensive collection by and about the acclaimed Irish author – is looking forward to the centenary as an opportunity to honor Joyce's literary legacy and promote the UB James Joyce Collection worldwide.
The Poetry Collection is partnering on exhibitions and programs in the U.S. and abroad, including:
Presenting an exhibition throughout 2022 titled "'That all books might published be: Sylvia Beach'sUlysses" in the Special Collections reading room in Capen Hall
Serving as the major lender to the Morgan Library & Museum's exhibition "One Hundred Years of James Joyce'sUlysses" in New York City, June 3 – October 2, 2022
Loaning materials to the Harry Ransom Center's exhibition "Women and the Making of Joyce'sUlysses," University of Texas, Austin, March 4 – July 17, 2022
Contributing visual materials to publications, exhibitions, and celebrations in Zürich, Paris, Dublin, and elsewhere
Leading as university hosts a tour to Ireland in September organized through the UB Alumni Association travel program
Working with production companies on film documentaries about the publication ofUlysses
For more information about any of these activities, please contact lpo-poetry@buffalo.edu.
The campaign to develop support for the collection's long-term plans includes a James Joyce Museum on UB's South campus in Abbott Hall. Poetry Collection Curator James Maynard publicly announced the museum plans at the Bloomsday event held in June 2021 to launch the new James Joyce mural in the city of Buffalo. UB alumnus Steve Still made a $100,000 challenge gift after the mural event.  All gifts up to $100,000 made by June 16, 2022, in support of the James Joyce Museum Fund will be matched by Steve Still.
In addition, the design phase of the James Joyce Museum has been selected to receive a prestigious Infrastructure and Capacity Building Challenge Grant by the National Endowment for the Humanities (NEH).  UB Libraries is required to secure $300,000 to unlock the NEH's $100,000 in funding. Help make this vision a reality by making a gift to the James Joyce Museum Fund today!