Are you a changemaker in your community? Do you want to establish a non-profit organization or a social enterprise to impact change?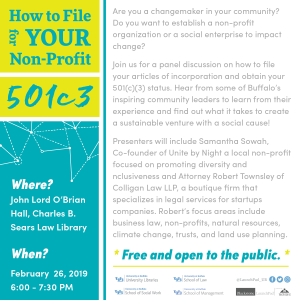 Join us for a panel discussion on how to file your articles of incorporation and obtain your 501(c)(3) status. Hear from some of Buffalo's inspiring community leaders to learn from their experience and find out what it takes to create a sustainable venture with a social cause!
Where? John Lord O'Brian Hall, Charles B. Sears Law Library
When: Tuesday, February 26, 2019, 6:00-7:30 PM
Free and open to the public
Presenters will include Samantha Sowah, co-founder of Unite by Night, a local non-profit focused on promoting diversity and inclusiveness, and Attorney Robert Townsley of Colligan Law LLP, a boutique law firm that specializes in legal services for startup companies. Robert's focus areas include business law, non-profits, natural resources, climate change, trusts, and land use planning.
Program presented in partnership with UB Libraries, School of Law, School of Social Work, School of Management, and Blackstone LaunchPad powered by Techstars.
Tags:
community
,
events
,
law school