The Poetry Collection is pleased to announce its new exhibition, Marianne Moore and Her Circle. Designed in conjunction with the "Marianne Moore and the Archives" conference, which will bring Moore scholars from across the country to UB on May 22-24, 2020, the exhibit features archival materials from the Poetry Collection by Moore, William Carlos Williams, Elizabeth Bishop, Jean Starr Untermeyer, and Robert Duncan, as well as rare print materials including first editions, artist's books, and I Am the Greatest!, Muhammed Ali's record, for which Moore contributed liner notes.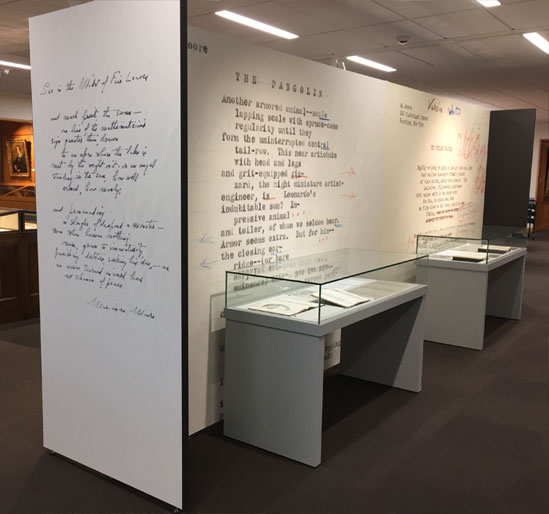 Bringing together material from six manuscript collections in the Poetry Collection, including the Contemporary Manuscripts Collection, the original collection started by Charles Abbott in 1936, the exhibition demonstrates the range of Moore's influence across the twentieth century. Included in the exhibit are corrected typescripts for "The Pangolin" and "The Frigate Pelican," two of Moore's best-known animal poems, as well as one of 120 copies of Moore's The Pangolin and Other Verse (1936) and one of 195 copies of Eight Poems (1962), which includes hand-colored drawings by the artist Robert Andrew Parker. The exhibit also includes corrected manuscripts and typescripts for her protégée Elizabeth Bishop's "Roosters," for which Moore contributed editorial advice, as Bishop reveals in her letter to Poetry Collection curator Mary Barnard, and drafts of her friend William Carlos Williams's essay which begins, "The magical name of Marianne Moore…" More information about the Poetry Collection's manuscript holdings is available on the Poetry Collection's website and in the finding aids database.
Marianne Moore and Her Circle will be on display in 420 Capen Hall through the end of the 2019-2020 academic year, and is open to the public during the Poetry Collection's regular hours, Monday through Friday 9am to 5pm. For more information, contact lpo-poetry@buffalo.edu or call 716-645-2917.