Abandon the Creeping Meatball: An Anarcho-Spiritual Treatise
February 18 @ 5:30 PM – 7:00 PM
---
The second in a series of four autobiographical lectures by poet Lisa Jarnot, this talk explores the prophetic tradition in American poetry as it is inflected through counter-cultural spirituality. Here, Jarnot configures her own poetics through a web of outsider ancestors from Christopher Smart to Lenny Bruce, paying homage to a poetics of revelation and resistance.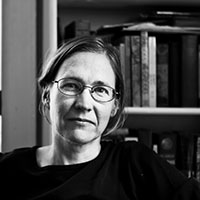 Lisa Jarnot was born in Buffalo, NY, and educated at the State University of New York at Buffalo. She is the author of several collections of poetry, including Some Other Kind of Mission (1996), Ring of Fire (2001), Black Dog Songs (2003), Night Scenes (2008), Joie De Vivre: Selected Poems 1992-2012 (2013), and A Princess Magic Presto Spell (2019). She co-edited An Anthology of New (American) Poets (1997), and her biography of San Francisco poet Robert Duncan, The Ambassador from Venus, was published by the University of California Press in 2012. She has been a visiting professor at Naropa University, Brooklyn College, and the University of Colorado, Boulder. She lives in Jackson Heights, Queens, is a Masters of Divinity candidate at New York Theological Seminary, and is a minister at Safe Haven United Church of Christ. The Lisa Jarnot Collection of her papers is available as part of the Poetry Collection.
This lecture is supported by the Bagley Wright Lecture Series on Poetry and co-presented by UB Art Galleries, The Poetry Collection of the University Libraries, and the Poetics Program, Department of English.
A recording of Jarnot's first Bagley Wright lecture: