Friday, April 16, 2021
2:00 pm EDT
Co-hosted by the Anne Blonstein Association and the Poetry Collection, this celebration of Blonstein's life and work features remarks by Steven Blonstein, Marina Camboni, Diana Collecott, Maria Damon, Rachel Blau DuPlessis, Andre Furlani, Elma Hoffman, Maria Cecilia Holt, Charles Lock, Leslie Morris, Jerome Rothenberg, and Jocelyn Wogan-Browne. There will also be a performance of a recording of canthus to canthus, a collaboration between Blonstein and composer Mela Meierhans.
Complementing the symposium, and in celebration of National Poetry Month, there is also a digital exhibit anne​ blonstein continuing curated by Maria Cecilia Holt and Alison Fraser.
---
Program
Welcome from the host, James Maynard, Curator of the Poetry Collection
Words by Steven Blonstein, Anne's brother
"to be continued / a corona of continuities" by Charles Lock and Maria Cecilia Holt
Remarks I:
Diana Collecott
Rachel Blau DuPlessis
Jerome Rothenberg
Introduction to the Anne Blonstein Collection by Alison Fraser, Associate Curator of the Poetry Collection
Remarks II:
Jocelyn Wogan-Browne
Elma Hoffman
Performance (7-10 minute excerpt) of a recording of canthus to canthus, a collaboration between Anne Blonstein and composer Mela Meierhans
Remarks III:
Leslie Morris
Marina Camboni
Maria Damon
Andre Furlani
Performance of recorded poetry readings by Anne Blonstein from the Archive of the Now
Announcement of the Anne Blonstein Fund for the UB Poetry Collection by Charles Lock and Patrick King
Closing words by James Maynard
---
Biographical Statements
Steven Blonstein was born in 1961 in Harpenden, England. He lived in Dorset for the latter part of his teenage years. During the 1970s Steve became enamored by the promise of technology and the then coming silicon revolution. He studied electrical engineering at Imperial College, London. Steve emigrated to the USA in 1983, first working in Pennsylvania before moving to Silicon Valley at the peak of the innovation period in the late 1980s. He retired from high tech in 2009 to pursue a passion in flying. Steve now manages one of the largest flying clubs in the world in Palo Alto, CA. Steve has 3 grown children, Samantha, Danielle, and Nicholas and now resides in Nevada City, CA, about 50 miles north of Sacramento.
Marina Camboni has been professor of American Literature and Director of the PhD Program in Comparative Literature at the University of Macerata (Italy). She has written on Walt Whitman, on experimental and contemporary poetry, and on transatlantic Modernism. She has translated Adrienne Rich, Anne Sexton, and H.D.'s Trilogy. Marina Camboni has entertained a long critical dialogue with Anne Blonstein published as "A Dialogue Between Marina Camboni and Anne Blonstein. From 'Of Experimental Poetry: A Dialogue between a Scholar and a Poet" in Word For/Word: A Journal of New Writing. On Blonstein's poetry she has written "Impure Lines: Multilingualism, Hybridity and Cosmopolitanism in Contemporary Women's Poetry" (Contemporary Women's Writing), "'Timeturned images'. On from eternity to personal pronoun by Anne Blonstein" (HOW2), and "Notarikon e tradizione biblica nelle ri-Scritture di Anne Blonstein" (Il testo al centro).
Diana Collecott: Like Anne Blonstein, I was raised and educated in England, reading English at Bristol University, where Charles Tomlinson supervised my doctoral thesis. From 1974 until 2004, I taught at Durham University, creating with Ric Caddel the Basil Bunting Archive and Poetry Centre in 1988. For several summers Harriet Tarlo and I held an H.D. Reading Party, which Anne joined in 1994; almost a decade later, she starred at a reading hosted by the Bunting Centre at the first Modernist Studies Association conference to be held in Britain. During this period I was also a visiting professor in Europe and North Africa and held research fellowships in Japan and the USA, including a Senior Fulbright and the Donald Gallup Chair at Yale's Beinecke Library. My book H.D. and Sapphic Modernism appeared in 1999; other ongoing publications and presentations have focused on twentieth-century women writers, modernism, race, and gender.
Maria Damon is Professor of Writing and Professor of Humanities and Media Studies at the Pratt Institute of Art. She is the author of The Dark End of the Street: Margins in American Vanguard Poetry, Post-literary America: From Bagel Shop Jazz to Micropoetries, and two chapbooks of cross-stitch visual poems: meshwards and XXX; co-author, with mIEKAL aND, Jukka-Pekka Kervinen, and Alan Sondheim, of several books of poetry; and co-editor, with Ira Livingston, of Poetry and Cultural Studies: A Reader.
Rachel Blau DuPlessis is the author of the multi-volume long poem Drafts (written between 1986 and 2012) and the books of collage poems NUMBERS (2018) and Graphic Novella (2015). Her twenty-first-century long poem series called Traces, with Days includes Days and Works (Ahsahta, 2017), Late Work (Black Square Editions, 2020), Around the Day in 80 Worlds (BlazeVOX, 2018), and Poetic Realism (BlazeVOX, 2021). She has written extensively on gender, poetry, and poetics including The Pink Guitar (1990, 2006), Blue Studios (2006), and Purple Passages (2012). Other critical works include Writing Beyond the Ending (1985) and Genders, Races, and Religious Cultures in Modern American Poetry (2001). DuPlessis is also known for her studies of the Objectivist poets, including her editing of The Selected Letters of George Oppen. Her Selected Poems 1980-2020 will come out from CHAX in 2022. DuPlessis is Professor Emerita at Temple University and lives in Philadelphia, USA.
Professor of English at Concordia University Montreal, Andre Furlani is the author of Beckett after Wittgenstein, Guy Davenport: Postmodern and After (both Northwestern UP), and of the forthcoming Pilgrim's Gress: The Beckett Walk (Cambridge UP). Recent essays on modern and contemporary literature have appeared in PMLA, Modernism/ modernity, Philosophy and Literature, Essays in Criticism, Bréac, and Canadian Literature, as have chapters in The Oxford History of the Classical Reception in English Literature (Oxford UP) and Speaking Memory: How Translation Shapes City Life (McGill-Queen's UP). Forthcoming is a chapter in The Routledge Guide to Translation in the City (Routledge) and articles in Journal of Modern Literature and Canadian Literature.
Elma Ling Hoffman studies Art History and Religious Studies at the University of Chicago, and will begin her MA in Religious Roots of Europe at the University of Copenhagen in the autumn. She is grateful to spend time with Anne's words and yours.
Maria Cecilia Holt has a doctorate from Harvard University's Divinity School. She has conducted research on the "textuality of textiles" as well as on burial and oratory, both in early Christianity and in anthropological accounts of indigenous funeral traditions in Southeast Asia. Holt's work in organizing Anne Blonstein's archive began in 2017. By this time, she had worked with John Uecker (James Purdy's literary executor and last assistant to Tennessee Williams) to facilitate the transfer of significant materials and drafts connected with Tennessee Williams's last play—In Masks Outrageous and Austere—to Harvard's Houghton Library (2015). Together with Charles Lock, Holt also worked with Uecker to bury James Purdy's ashes according to the late writer's wishes—near to the grave of Dame Edith Sitwell at Weedon Lois, Northamptonshire, UK. Holt's account of Purdy's burial was published in the European Journal of Life Writing in 2020.
Patrick King: I obtained a PhD at the University of Leicester, UK in 1974 and was appointed as a Research Group Leader at the Friedrich Miescher Institute in Basel, Switzerland in 1976. One of the Postdoctoral Fellows I engaged to work in my laboratory in 1983 was a bright young lady with a brand new PhD in Genetics from the University of Cambridge by the name of Anne Blonstein. Anne took over some rather boring experiments, which in her typical determined manner she brought to a successful conclusion. We became partners in the lab but also privately. In my free time, I was working creatively with clay and Anne encouraged me in every way. Anne herself began to expand her writing and together we celebrated her first publications. We went our separate ways in 1990, Anne to become a full-time renowned writer and I to become a full-time potter.
Raised in England, educated at Oxford, Charles Lock taught for twelve years at the University of Toronto before returning to Europe in 1996 as the Professor of English Literature at the University of Copenhagen, which post he still holds. Lock is the author of a monograph on Thomas Hardy and edited the Powys Journal from 2010 to 2020; he has published some two hundred scholarly essays. It was in 1996, at a conference in Switzerland, that he met Anne Blonstein, heard her read, saw a poem laid out—and he has never since doubted her importance. When her cancer was diagnosed in 2008 Anne nominated him as her literary executor.
Leslie Morris is the Beverly and Richard Fink Professor of Liberal Arts and Professor and Chair of the Department of German, Nordic, Slavic and Dutch at the University of Minnesota, where she also served for ten years as Director of the Center for Jewish Studies. Her publications include The Translated Jew: German Jewish Culture outside the Margins (Northwestern University Press, 2018) and three co-edited volumes of essays on German Jewish culture. She has written widely on the poetics of post-Holocaust memory, German-Jewish and experimental poetry, and translation. Currently she is writing a hybrid, experimental memoir about knowledge, memory, and the nature of consciousness as it grapples with the aftermath of a still unexplained coma she fell into while learning of her family's buried Holocaust history. An excerpt from the memoir was published last year in the Georgia Review.
Jerome Rothenberg is an internationally celebrated poet, translator, anthologist, and performer with over ninety books of poetry and twelve assemblages of traditional and avant-garde poetry such as Technicians of the Sacred, Shaking the Pumpkin (traditional American Indian poetry), Exiled in the Word (a.k.a. A Big Jewish Book), and, with Pierre Joris and Jeffrey Robinson, Poems for the Millennium, volumes 1-3. Recent books of poetry include A Field on Mars (in English and French), The President of Desolation, The Mystery of False Attachments, A Book of Infernos, and Eye of Witness: A Jerome Rothenberg Reader; and he is currently assembling a transnational anthology of North and South American poetry "from origins to present," scheduled for publication by the University of California Press. His own selected poetry has appeared in French, Spanish, Swedish, and Flemish editions, and he has been translated extensively into German, Dutch, Italian, Serbian, Chinese, Polish, Lithuanian, Georgian, Japanese, and Finnish.
Jocelyn Wogan-Browne, Thomas F.X. and Theresa Mullarkey Chair in Literature (Emerita), Fordham University, NY, specializes in medieval women's literary culture and in the French(es) of medieval England. Her studies, editions, and collections include Medieval English Prose for Women (Oxford, 1990), Virgin Lives and Holy Deaths (London, 1996), The Holy Women of Liege and their Impact ([featuring work by Anne Blonstein] Turnhout, 1999), Saints' Lives and Women's Literary Culture, c. 1150-1300: Virginity and Its Authorizations (Oxford, 2001), Household, Women and Christianities (Turnhout, 2005), Language and Culture in Medieval Britain (Cambridge, 2009), and Vernacular Literary Theory from the French of Medieval England (Woodbridge, 2016). She has taught in Australia, Italy, the UK, and the USA, was formerly Chair in Medieval Literature at the University of York UK, and is a Fellow of the Medieval Academy of America. She is currently working on a book on multilingualism and late medieval women in England.
---
About Anne Blonstein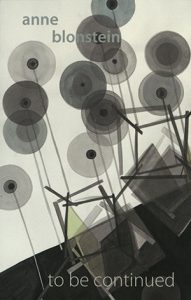 Anne Blonstein (1958-2011) was born in Harpenden, Hertfordshire, England, and studied plant genetics at Cambridge University. Her doctoral dissertation "Dwarf Mutants in Barley" was published in 1986. In 1983 Blonstein was appointed to a post-doctoral fellowship at the Friedrich Miescher Institute in Basel, where she was to live for the rest of her life. She began publishing poetry in 1987, and in 1991 she left her career in science to pursue writing full time, working as a freelance translator and editor. Blonstein was a devoted reader of Paul Celan, with whom Blonstein felt a kinship: All of her great-grandparents were Jewish immigrants to Britain. Blonstein used devices such as the notarikon in worked on screen and correspondence with nobody.
Blonstein authored six full-length collections: the blue pearl (Salt, 2003), worked on screen (Poetry Salzburg, 2005), memory's morning (Shearsman, 2008), correspondence with nobody (Ellectrique Press, 2008), the butterflies and the burnings (Dusie Press, 2009), and to be continued (Shearsman Books, 2011), as well as sand. soda. lime. (Broken Boulder Press, 2002), from eternity to personal pronoun (Gribble Press, 2005), that those lips had language (Plan B Press, 2005), t​hou shalt not kill (Dusie Wee Chap, 2007), hairpin loop: poems (Bright Hill Press, 2007), and 8 OF STONES (erbacce-press, 2011).
The Anne Blonstein collection consists of manuscripts, diaries, notebooks, and correspondence documenting the creation and publication of her work, as well as correspondence with friends.
---
We are pleased to announce that the Anne Blonstein Association has established the Anne Blonstein Fund for the UB Poetry Collection​ ​to support the Poetry Collection and its Anne Blonstein Collection. Please consider donating to this fund in recognition of the life and work of Anne Blonstein.