The Poetry Collection of the University Libraries, University at Buffalo, presents:
THE SEVENTH VICTOR E. REICHERT ROBERT FROST EVENT
Featuring a virtual talk by Setsuko Yokoyama titled
"Difference, #slowDH, and the Poetics of Robert Frost Tapes"
Co-sponsored by the UB Digital Scholarship Studio and Network
Tuesday, October 12, 2021
7:00 – 8:00 pm EDT
Via Zoom
---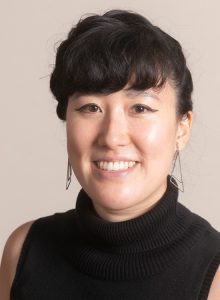 Setsuko Yokoyama is an Assistant Professor of Digital Humanities at the Singapore University of Technology and Design. Prior to Singapore, she worked as an ACLS Postdoctoral Fellow in Digital Humanities at Washington University in St. Louis. She received her doctorate in English from the University of Maryland, College Park and her master's degree in Information Science from the University of Michigan School of Information while on the Fulbright scholarship. During graduate school, she worked as Head Project Manager of an online Emily Dickinson studies platform Dickinson Electronic Archives and as Founder and Project Coordinator of the Digital Frost Project. Yokoyama considers it her immediate and long-term responsibility as a digital humanist to demonstrate in ways large and small that technologies—including languages—are not apolitical but can become a tool to retain the oppressive status quo. She practices reimagining technology as a means to center humanity and social justice inside and outside the classroom just as literary authors have long striven to undo and rework both covert and pronounced discriminatory worldviews through their work. Yokoyama's work has been published in peer-reviewed academic journals such as Stanford University's Arcade and The Robert Frost Review, as well as in the Routledge anthology titled Access, Control, and Dissemination in Digital Humanities. Her transpacific translation work is featured in a literary magazine The Margins, published by the Asian American Writers' Workshop.
---
Visit the finding aid and digital collection for the Victor E. Reichert Robert Frost Collection.
Please consider making a gift to the Jonathan F. Reichert Fund to Support the Victor E. Reichert Robert Frost Collection.