Nell Aronoff, librarian and liaison to the Jacobs School of Medicine and Biomedical Sciences, has been named as a recipient of the 2023 SUNY Chancellor's Award for Excellence in Librarianship. The Chancellor's Award for Excellence in Librarianship recognizes consistently superior professional achievement in the field of librarianship; service to the campus, the university and to the field; scholarship and professional growth; and major professional achievements.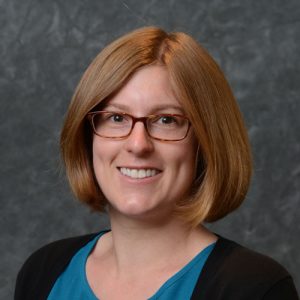 Arnoff joined UB in 2013 as a senior assistant librarian before her promotion to associate librarian in 2019. As liaison to the Jacobs School, Aronoff has become part of the medical school's fabric, providing critical insight and knowledge to numerous committees and constituents.Working with colleagues in the History of Medicine Collection and University Archives, she created the digital library guide "175 Years of Medicine at UB," an invaluable resource linking members of the university and surrounding communities to the people, places and historical collections that contribute to the institutional heritage of the Jacobs School.
Aronoff has been a part of the Curriculum Committee in the Jacobs School since she joined UB in 2013. This role has led to her inclusion in task forces related to the medical school's curriculum redesign. She has also held numerous roles in the Medical Library Association (MLA) and the Upstate New York and Ontario Chapter of the Medical Library Association.
Identifying mentorship as a critical way to share focused knowledge and learned experiences, Aronoff and her partners on the MLA Membership Committee developed an online mentoring program to fill this need during the pandemic. She went on to co-author a paper about the program, which was published in the Journal of the Medical Library Association. In addition to this paper, Aronoff has co-authored articles in library science and medical journals. She has worked with medical researchers on systematic reviews.