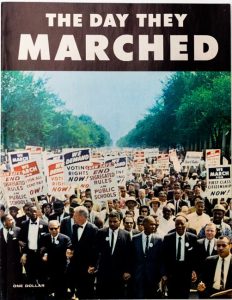 Sixty years ago, on August 28, 1963, a group of prominent civil rights leaders met in Washington, D.C. for the historic March on Washington for Jobs and Freedom.  More than 200,000 people gathered that day in protest of racial discrimination and to demand fair wages, economic justice, voting rights, education, and civil rights protections. It was on this day that Martin Luther King Jr.  delivered his powerful "I Have a Dream" speech from the steps of the Lincoln Memorial.
Among those who attended the March on Washington was Lydia T. Wright. Wright, the first African American pediatrician in Buffalo and the first African American appointed to the Buffalo Board of Education, was instrumental in raising the standards for all students attending Buffalo public schools.
In 1968 Wright donated her papers to the University Archives. While the majority of the contents of the Lydia T. Wright papers focuses on school integration in Buffalo, New York, a small portion highlights the 1963 March on Washington for Jobs and Freedom. Included in this collection are items from the event such as programs, buttons and photographs that commemorate this pivotal time in United States history.
Learn more about the entire collection at https://findingaids.lib.buffalo.edu/repositories/2/resources/428