The Poetry Collection of the University Libraries, together with the Poetics Program and the Andrew W. Mellon Society for Fellows in Critical Bibliography at Rare Book School, will host an in-person presentation by Dr. Mary Catherine Kinniburgh, "Surface and Relief in Literary Archives: A Talk on Messy Archivist and Granary Books," on Tuesday, October 10 at 3pm in 420 Capen Hall.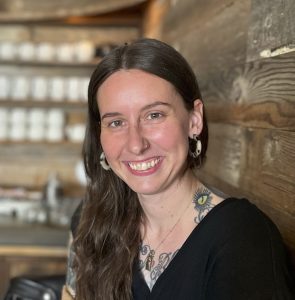 Dr. Mary Catherine Kinniburgh is the co-director of Granary Books, an independent publisher and archives/rare book dealer. As a scholar of postwar American poetics and an archives broker, her activities occur at the intersection of research and praxis, and her writing often focuses on the poetics of archival work. In particular, her research explores making sense of high volume in literary collections. Her recent book, Wild Intelligence: Poets' Libraries and the Politics of Knowledge in Postwar America (U. Massachusetts Press, 2022), drew on the poetry collections and poets' libraries housed at the University at Buffalo's Poetry Collection.  
In this talk, she will discuss her ongoing series Messy Archivist, which explores the interstitial qualities of working on archives through prose, poetry, and images. Published by her experimental imprint TKS Books, each Messy Archivist is a handmade chapbook that is often organized around a keyword, such as messy, or need. For the fourth volume and this talk, the premise is surface: what might be interpreted as an archival surface, and how does our attentiveness to the relationship between surface and depth inform our understanding of archives, especially at scale? Drawing on Sharon Marcus and Stephen Best's concept of "surface reading" in literary texts, the physics of surfing, what puts the "relief" in relief painting, and Kinniburgh's experiences working on specific archives at Granary Books, this talk will contextualize the concept of surface as a lens for the information overload that necessarily comes with archival work, and a critical approach for the toolkits of fellow scholars and archivists of twentieth-century American poetry and beyond.
Refreshments will be provided.
Tuesday, October 10, 2023
3:00-4:00 pm
The Poetry Collection
420 Capen Hall, Buffalo, NY 14260
Co-sponsored by the Andrew W. Mellon Society of Fellows in Critical Bibliography at Rare Book School, the Poetry Collection, and the Poetics Program
Hosted by Alison Fraser, RBS-Mellon junior fellow and Associate Curator of the Poetry Collection