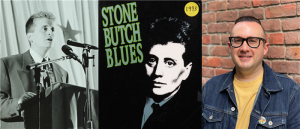 From left to right: (1) Author photograph by Bill Hackwell that appeared on the back cover of the 1993 Firebrand Books edition of Stone Butch Blues. Firebrand Books records, #7670. Division of Rare and Manuscript Collections, Cornell University Library. (2) 1993 Firebrand Books edition of Stone Butch Blues. Book design by Betsy Bayley. Cover design by Debra Engstrom. Dr. Madeline Davis LGBTQ Archive of Western New York, Archives & Special Collections Department, E. H. Butler Library, SUNY Buffalo State. (3) Jeffry Iovannone, in front of the Firebrand Books building, taken by Christine O'Malley.
Historian and historic preservation planner Dr. Jeff Iovannone will discuss his award-winning GIS-based exhibit, Leslie Feinberg's Buffalo: Historic Sites in Stone Butch Blues in the context of what he refers to as the "place of place," or the role and importance of place and place-making in U. S. LGBTQ history.
The talk will highlight sites represented in transgender lesbian writer and activist Leslie Feinberg's award-winning novel, "Stone Butch Blues"—connected to the University at Buffalo, as well as the Firebrand Books Building in Ithaca, New York as representative examples. Iovannone argues that preservationists have an imperative to conserve both LGBTQ places and spaces and will offer strategies that move from theory to practice, including when place and space are contested.
Please join us on:
Thursday, October 12, 2023
3:30 PM – 5:00 PM
Center for the Arts Screening Room
UB North Campus
This event is presented by the UB Gender Institute in partnership with the University Archives.