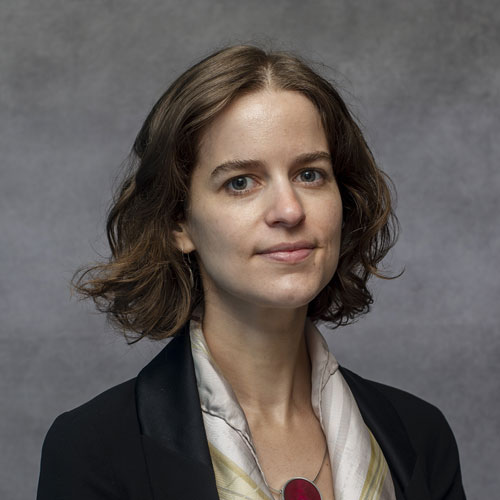 Alison Fraser
Associate Curator, Poetry Collection and Coordinator, Rare & Special Books Collection
420 Capen Hall, North Campus
Buffalo, NY 14260

Ph: 716-645-1374
Fax: 716-645-3714
awfraser@buffalo.edu
Office Hours
Office hours by appointment.
Education and Training
PhD, English, University at Buffalo, 2017
MA, English, University of Maine, 2010
BA, English, Hollins University (Roanoke, VA), 2008. Phi Beta Kappa
Awards and Honors
Junior Fellow, Andrew W. Mellon Society of Fellows in Critical Bibliography at Rare Book School, 2020-2022
Malkin New Scholar, Bibliographical Society of America, 2020
Dissertation Fellowship in Women's Studies, Woodrow Wilson Foundation, 2016-2017
Publications
Books
Nice: Collected Poems by David Melnick. Co-edited with Benjamin Friedlander, Jeffrey Jullich, and Ron Silliman. Brooklyn, NY: Nightboat Books, 2023 (forthcoming)
The Collages of Helen Adam. Ed. with a critical introduction. Fort Collins, CO and Victoria, TX: Further Other Book Works/Cuneiform Press, 2017.
Articles
"Creating the Twentieth-Century Literary Archives: A Short History of the Poetry Collection at the University at Buffalo." Information & Culture 55.3 (Fall 2020): 252-270.

"Mass Print, Clipping Bureaus, and the Pre-Digital Database: Reexamining Marianne Moore's Collage Poetics through the Archives." Journal of Modern Literature 43.1 (Fall 2019): 19-33.
"Teaching Creative Writing in Special Collections." RBM: A Journal of Rare Books, Manuscripts, and Cultural Heritage 20.2 (Fall 2019): 70-82.
"Diasporic Object Lessons: Material Identity and the Korean Diaspora in the Work of Theresa Hak Kyung Cha." Asian Diasporas. Spec. issue of WSQ: Women's Studies Quarterly 47.1-2 (Spring/Summer 2019): 31-47.
Research
My research interests include twentieth-century Anglophone poetics, historical bibliography, material culture, print ephemera, feminist theory, critical archival studies, and special collections pedagogy.
Presentations
Selected presentations from 2018 to present:
"Beyond Manuscripts: Teaching with Special Formats in Special Collections," lightning talk panel, Rare Books and Manuscripts Section Annual Conference, June 2021.
"Public Readership and the Private Press: An Archival Recovery of Erica Marx's The Hand & Flower Press," 20th- and 21st-Century British and Anglophone Forum roundtable, Annual Convention of the Modern Language Assocation, Jan. 2021
"Homemade Books in Twentieth-Century Poetics: A Feminist Bibliography," Annual Meeting of the Bibliographical Society of America, Jan. 2020. Invited as a BSA New Scholar
"Poetic Manifestations: Witchcraft and Magic in the Work of Helen Adam," Occult Humanities Conference, New York University, Oct. 2019. Invited
"Women Who Live to Destroy: Helen Adam's Witchy Poetics," Rochester Institute of Technology, Sept. 2019. Invited
"Ephemeral Materials and Invisible Women: Labor and Language in the Helen Adam Collection," Society for the History of Authorship, Reading, and Publishing Annual Conference, July 2019
"Homemade Books: Ephemeral Book Objects in Twentieth-Century Book History," Annual Convention of the Modern Language Association, Jan. 2019
"From Wastebasket to Library: Creating the Twentieth-Century Literary Archive," The Past, Present, and Future of Libraries Conference, American Philosophical Society, Sept. 2018