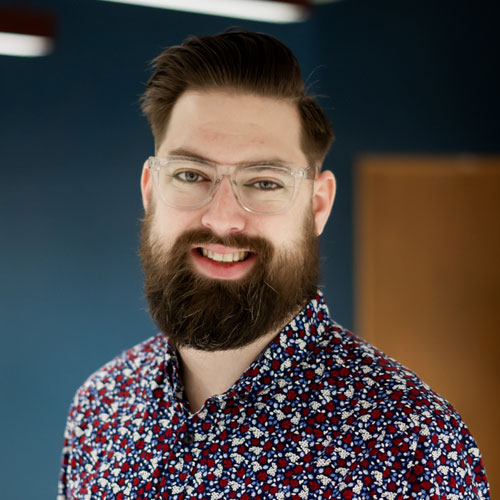 Bryan Sajecki
Student Support and Engagement Librarian
Pronouns: he/him/his
520B Lockwood Memorial Library, North Campus
Buffalo, NY 14260

bsajecki@buffalo.edu
Office Hours
You can contact me through my email at bsajecki@buffalo.edu. If you wish to set up a meeting, please contact me and we can meet in my office or via Zoom.
Department Liaison
University Athletics, Residential Education, Tutoring and Academic Support Services
Education and Training
Masters of Library Science, DLIS, GSE
State University of New York at Buffalo, 2012
Graduated summa cum laude
Inducted into the Beta Phi Mu Library Honor Society
B.A. History with Distinction, Minor in Polish Studies
State University of New York at Buffalo, 2010
Employment
Senior Assistant Librarian; Undergraduate Education
State University of New York at Buffalo (Amherst, New York)
August 2016 to the present


Reference Librarian
D'Youville College (Buffalo, New York)
April 2016-August 2016


School Library Media Specialist

Ken-Ton School District (Tonawanda, NY)
June 2014-February 2016
Buffalo Public School District (Buffalo, NY)
October 2013-August 2014)


Awards and Honors
ARL Film Festival 2018 – The "Arlies"
Best Humor: UB Libraries Fake News with Nicole Thomas


Publications
Book Chapters:
Nichols, K.T., Sajecki, B.J., & Tysick, C.A. (2022). Meeting students where they are: Collaborating with non-traditional departments on campus. In M. Piorun & R. Fisher-Raboin (Eds.), Cases on Establishing Effective Collaborations in Academic Libraries. IGI Global.

Maloney, M., Sajecki, B., Thomas, N., & Tysick, C. (2019) Teaching the creation of new knowledge: Applying the constructivist and social constructivist theories of learning. In The Grounded Instruction Librarian: Participating in the Scholarship of Teaching and Learning.
Ongoing Film Reviewer for Educational Media Reviews Online (EMRO)
Professional Memberships
American Library Association (ALA)
Association of College Research Libraries (ACRL)
Western New York Library Resources Council (WNYLRC)
Presentations
Past Presentations
Rethinking Information Literacy Instruction for First-Year ELLs with Creative & Low-Stakes Active Learning Strategies - Poster Session
5/18/2023
Eastern New York Association of College Research Libraries Chapter (ENYACRL)
Oswego, NY

Improving Student Engagement with Critical Information Literacy - Poster Session
3/16/2023
Association of College Research Libraries (ACRL) Bi-Annual Conference
Pittsburgh, PA


Student Support and Engagement Through Non-Traditional Outreach
8/5/2022
South Carolina Conference on Information Literacy (SSCIL)
Virtual


Helping Undergraduate English Language Learners Through Information Literacy Obstacles
07/13/2022
The PILLARS Symposium
Virtual


Implementing

Critical

Information

Literacy (CIL) For the First Time: The Good, the bad, and the Reiteration
6/26/2022
American Library Association (ALA) Annual Conference
Washington, D.C.


Success Through Survival: The Evolution of IL Librarians in Response to the Unique Challenges of the COVID-19 Pandemic
10/1/2021
Western New York Library Resources Council (WNYLRC) - Intersect 2021
Buffalo, New York

Empty Campus: Providing Stress Relief From a Distance­ – Poster Session
10/16/2020
Florida Association of College Research Libraries (FACRL) 2020
Virtual

Prioritizing Accessible Content for Information Literacy Instruction
6/18/2020
SUNYLA 2020:The Heart of the Campus - Accessible, Inclusive, & Inspiring Libraries
Virtual

Dejargoning Jargon: Deconstructing Library Concepts for All
10/4/2019
Western New York Library Resources Council (WNYLRC) - Intersect 2019: The Global Library
Buffalo, New York


Social Constructivism and Universal Design Strategies for Information Literacy Instruction
8/19/2019
Teaching & Learning Conference – Limitless Learning: Empowering Students through Inclusive Course Design
Fredonia, New York


Bridging the Gap: Research Expectations at a Tier 1 Institute" – Poster Session
5/22/2019
High School to College Supporting Student Success Conference
Brockport, New York

Assessing Assessments
10/5/2018
Western New York Library Resources Council (WNYLRC) - Intersect 2018
Buffalo, New York

iLab: A Sustainable Instruction Journey
8/2/2018
New Librarian Summit
San Jose, California

Media Literacy in the Era of "Fake News"
4/25/2018
Sponsored by the Niagara Frontier Reading Council
Buffalo, New York