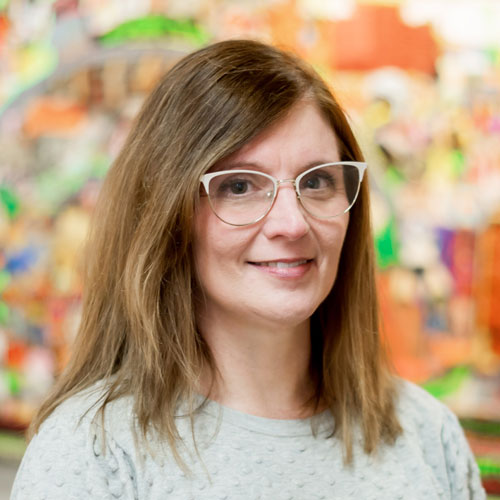 Kate Cunningham
Liaison and Special Projects Librarian
420A Lockwood Memorial Library, North Campus
Buffalo, NY 14260

kec27@buffalo.edu
Department Liaison
Art, Art History, Arts Management, Communication & Media Studies; and Special Projects Librarian for Humanities & Social Sciences Collections & Liaison Services
Responsibilities
As Liaison and Subject Selector for Art/Visual Studies, Arts Management, Media Studies and Communication, I assist students, faculty and staff with general and in-depth research in specialty areas and focused sub-areas such as new media, transnational critical museum studies, new media art practices, performance work and associated documentation, and resource sharing among practitioners and scholars.
As Project Manager for Library Collections and under the Head of Collections develop collections projects, including setting appropriate parameters, budget, timelines, and workflows; along with various library staff ensure timely acquisition of print and electronic resources that best meet the research and educational needs of faculty and students; analyze and assess collections through large-scale data collection and management. As a former student of project management (UB School of Management) apply PMBOK (the Project Management Body of Knowledge) strategies to large-scale projects, assessing project viability, cost savings and staff assignment matrixes.
Employment
Art, Communication and Media Studies Librarian, University at Buffalo Libraries, 2019 - present.
+Special Project Librarian for Collections and Liaison Services in the Arts, Humanities and Social Sciences, 2019 - present, University at Buffalo Libraries, 2017 - .

Acquisitions and Collections Projects Librarian, University at Buffalo Law Library, 2017-2019.

Collection Project Manager, University at Buffalo Libraries- (all university subjects and disciplines), 2005-2017. Permanent Appointment: May 5, 2014.
+Secretary of UB Libraries Collections Committee from 2005-2013, member from 2005 to 2017, 2019 - present).
+Chair of Ebooks Task Force, Monographs Workflow Task Force, member of Annex Task Force and Scholarly Communication Task Force.
+Art Librarian while also serving at Collections PM, 2005-2010, 2012-2015.
Arts and Humanities Librarian and Assistant Professor, Collections Team, Colorado State University Libraries, (selector and liaison to African American Studies, Art and Art History, Asian Studies, Design, Fashion & Merchandising, Modern Languages, and Philosophy), 2000-2004.
Fine Arts Librarian, Houston Public Library, (cataloguer for artists' files and reference librarian in art, music and theatre), 1999-2000.
Staff Assistant, Harry Ransom Humanities Research Center, the University of Texas at Austin, (part-time assistant in Preservation, Photography and Theatre), 1997-1999.
Intern, Albright-Knox Art Gallery, Strauss Art Library, (cataloging of ephemera including artists' files, Buffalo arts scrapbook digitization and preservation housing), 1996.
Publications
"Breaking New Ground: A Demand-Driven Ebook Model in a Multi-type Library Environment," with Sheryl Knab, Charleston Conference: Issues in Book and Serial Acquisitions, Charleston, South Caroline, November 7, 2013.
"Meet them Where They Are: Patron Driven Ebooks in a Multi-type Consortia," with Joseph Riggie and Jennifer Smathers, State University of New York Librarians (SUNYLA) Conference, Buffalo, New York, June 14, 2013.
Shared Collections & Services: Innovative Strategies for the New Millennium, 2013, panelist and panel facilitator, Western New York Library Resources Council, Buffalo, New York, February 1, 2013.
"Patron-Driven Acquisitions in Consortia," with Gregory Doyle (ORBIS Cascade) and Sheryl Knab (WNYLRC), American Library Association Annual Conference, Anaheim, California, June 23, 2012.
"Radical Strategies for Cooperative Collection Development and Resource Sharing," with H. Austin Booth and Cyril Oberlander, Association of College and Research Libraries 15th National Conference, Philadelphia, Pennsylvania April 1, 2011.
"Leave the Driving to Them: Patron Driven Acquisition (PDA) of eBooks," with Charles Lyons, Upstate New York Special Libraries Association, Fall Meeting, Syracuse, New York, October 14, 2011.
"Careers in Art Librarianship," Art Libraries Society of North America, Western New York Chapter, Spring Meeting, Geneva, New York, April 7, 2006.
"International Poster Collection: Content, Preservation and Teaching" Art Libraries Society of North America/West, Annual Conference (focus on digital collections and project management), Portland, Oregon, August 1, 2003.
"New Roles for Archives/Libraries: the on Campus University Experience," with Carmel Bush, Colorado Digitization Project (CDP) Annual Leadership Seminar, Denver, Colorado, December 5, 2002.
"Colorado State University Libraries' International Poster Project: Digitization Using CONTENTdm," High Plains Library Association Annual Meeting and Retreat, Estes Park, Colorado, April 2002.
Book reviewer for Choice (Art), LIBRES (Arts and Humanities) and Library Journal (Photography)
Research
Research interests include real-world innovative and collaborative collection development, acquisitions, and resource sharing; data-driven collection management/collection assessment; comprehensive shared print storage, LSDI/preservation, demand-driven acquisitions/collections; evolving digital and print scholarship, usability of existing collections and long-range planning and sustainability of research libraries' collections. Subject-based investigations (humanities, social sciences and inter-disciplinary studies) focus on Digital Humanities, particularly digital documentation of artists' files and creative temporal works from and/or for feminist based bio-critical studies, and the documentation of site-specific transitory performance art and media, and most importantly: evolving researcher methodologies as applied to and within large public university research library contexts.
Professional Memberships
American Library Association (including divisions: Association of College and Research Libraries and RUSA-CODES - the Collection Development and Evaluation Section; former chair of CODES Collections Policies Committee)
Art Libraries Society of North America, the main body of art library professional; former member of the International Relations Committee.
Sociiety of American Archivists, new member with interests in digital humanities, preservation in the art studio and artists' ephemera.
++Service has centered around project design and initiatives that foment collaborative collections across units and universities, related shared services with budetary analysis/cost savings, and for and among large public research collections, our regional constituents, and stakeholders.